Viritech and Haydale to develop linerless pressure vessels for hydrogen vehicles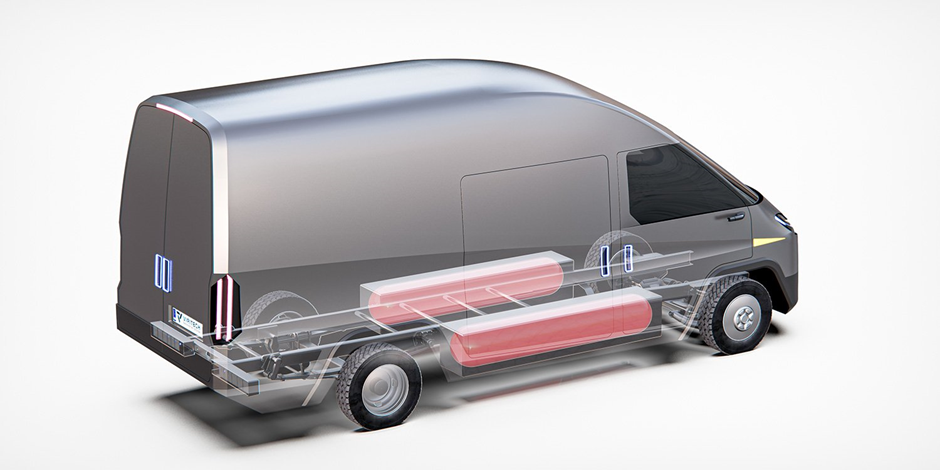 Viritech, the leading developer of high-performance hydrogen powertrain solutions for the automotive industry has announced that it is extending its cooperation with Haydale, a global technology solutions company and a leader in functionalised graphene-enhanced nanomaterials.
The two companies will work together on solutions for hydrogen pressure vessels for the automotive industry, initially focusing on commercial vehicles.
This cooperation is timely, as the UK's Advanced Propulsion Centre (APC) has recently published a report which highlights that by 2030, fuel cell electric vans will offer a lower total cost of ownership (TCO) than battery-electric vans, for applications where the vehicle travels more than 300 miles per day – vans on more than one shift a day would be a prime example.
In focussing on Type V, linerless pressure vessels, Viritech and Haydale are looking to develop the world's most efficient vehicle storage system for gaseous hydrogen. This technology will have wide application, including to the automotive, aerospace, and marine industries, with immediate application in the emerging market for fuel cell vans.
The project will entail the development of new functionalised materials and resins for Type V pressure vessels, delivering considerable weight savings and removing the need for an inner liner, which is currently required in composites pressure vessels to act as an impermeable barrier. Instead, Viritech and Haydale's advanced graphene-enhanced carbon fibre material, will enable the construction of impermeable pressure vessels.
In addition, Viritech will be further developing its Graph-ProTM structural pressure vessels, which include fixing points which attach directly to a vehicle chassis, meaning no separate attachments or frames are required. This greatly simplifies the installation of pressure vessels and saves considerable weight.
Having previously co-developed hydrogen storage solutions for Viritech's iconic Apricale Hypercar, this collaboration marks the next stage in the Viritech-Haydale partnership and will play a significant role in bringing UK developed and industry-leading storage solutions to the automotive market.
Timothy Lyons, CEO of Viritech said, "We are delighted to be extending our partnership with Haydale. With hydrogen's growing emergence as a key pilar in the road to 'Sustainable Transportation' vehicle manufacturers are starting to design their first series-production fuel cell vehicles, and working together, our two companies are ideally placed to capitalise on one of the most important growth markets of the next two decades."
Keith Broadbent, CEO of Haydale said, "We are pleased to be continuing our work with Viritech, and, together, be leading the way with ground-breaking hydrogen pressure vessel designs. Our expertise in functionalised nano materials alongside Viritech's pioneering approach to fuel cell vehicles is an exciting step forward in providing the technology for this growing market."