The sleek exterior of new Lotus Emira sports car is made of composites panels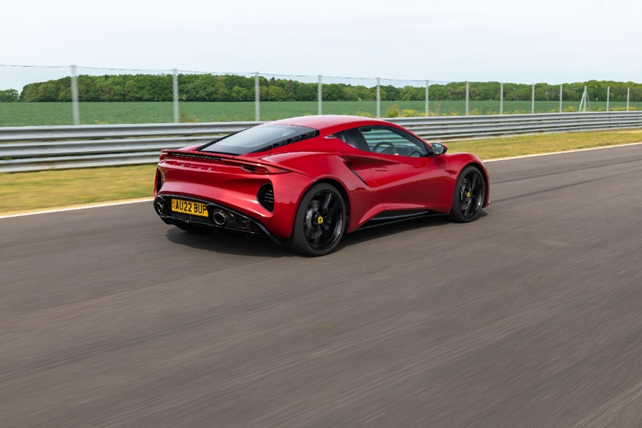 Lotus Emira, the latest Lotus sports car has been named as 'New Car of the Year' at the annual AM Awards 2023, held in London recently. The sleek exterior of this mid-engine premium sports car is made possible, in part, by the advanced composites exterior panels provided by Teijin Automotive Technologies. Specifically, Teijin Automotive Technologies is providing the right- and left-hand doors; right- and left-side rear quarter panels, and the inner, outer and lower shells of the tailgate.
According to an announcement from Teijin Automotive Technologies, the doors, rear quarter and tailgate outer panels are manufactured using the company's proprietary TCA Ultra Lite® material. This low-density, Class A surface material is up to 43 percent lighter than a traditional composites material, and approximately the same weight as aluminum. However, because it is a compression-molded composites, it can achieve dramatic styling cues not possible with a stamped metal and is dent and corrosion resistant. This award-winning material is being produced on the company's state-of-the-art sheet molded compound (SMC) compounding line in Pouancé, France.
Specific design cues include a sculpted section in the door that leads airflow toward the intake, which is molded into the rear quarter panel. This design serves a dual purpose, providing air intake and cooling for the engine bay.
"The body panels of the Lotus Emira had to satisfy a number of requirements including aerodynamic design and styling, but also have to be lightweight, strong and provide a high-quality Class A finish. said Paul Tedstone, Executive Director of Supply for Lotus Cars. "By using lightweight composites for the body panels, including the doors, we were able to combine all the engineering and styling requirements in the stunning design of this award-winning sports car."
The inner panels for the tailgate are made from a structural grade, low-density SMC, featuring a glass fiber content optimized for strength. All outer panels are provided to Lotus with a conductive primer, and the interior tailgate panel is provided with a black texturized coating. All components are being manufactured at the Teijin Automotive Technologies facility in Leça do Balio, Portugal.
Teijin Automotive Technologies' Ultra Lite technology uses proprietary, treated glass bubbles to replace some of the CaCO3, allowing the resin to adhere to the matrix and increase the interfacial strength between the bubble and the resin. This treatment technology results in a more robust resin mix making molded parts more resistant to handling damage, preventing micro-cracks that cause paint pops, pits and blistering, and improving paint adhesion and bonding characteristics.
TCA Ultra Lite offers automakers an opportunity to achieve a Class A finish with a material that is resistant to corrosion, dents and dings, ultimately providing the consumer with a vehicle that doesn't rust and won't be subject to the scratches and dings that mar the surface of any vehicle panel made of metal.