Stratasys acquires Covestro's additive manufacturing materials business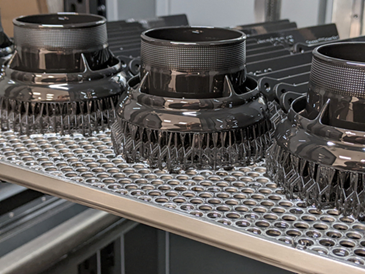 Automotive air vent prototypes 3D printed with Somos WaterShed Black resin on Neo450 3D printers from Stratasys. (Photo: Business Wire)
Stratasys Ltd., a leader in polymer 3D printing solutions, announced it has completed the acquisition of the additive manufacturing materials business of Covestro AG. The acquisition, which is immediately accretive, includes R&D facilities and activities, global development and sales teams across Europe, the U.S. and Asia, a portfolio of approximately 60 additive manufacturing materials, and an extensive IP portfolio comprised of hundreds of patents and patents pending.
The materials, IP portfolio, and talent Stratasys acquired from Covestro will help Stratasys address new applications in key technology categories such as stereolithography, P3/DLP, and powder bed fusion, including SAF™ technology. They complement Stratasys' existing deep materials expertise for PolyJet and FDM® technologies.
All materials are available through Stratasys and its global partners under the Somos® and Addigy® brands, benefiting customers with greater global sales, service and support infrastructure. Stratasys will continue to fully support customers whether the materials are used with Stratasys or third-party 3D printers.