Safran Nacelles delivers its 3,000th Airbus A320neo nacelle to Pegasus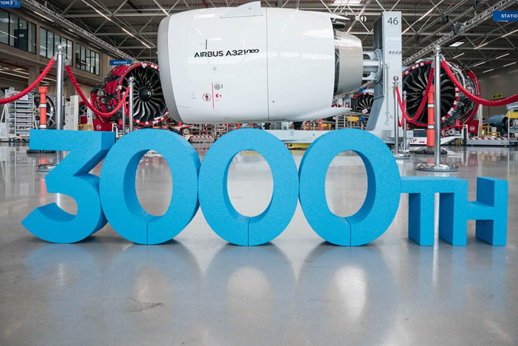 Safran Nacelles recently celebrated the delivery of its 3,000th A320neo nacelle to the airline Pegasus. At the Hamburg integration site, Vincent Caro, Safran Nacelles CEO was joined by Airbus A320 Family Programme Senior Vice President, Michael Menking, Airbus A320 Family Propulsion System procurement Vice President, Michael Enzinger and Pegasus' Technology Vice President, Kerem Agartan, as well as all employees at Safran Nacelles Hamburg. He expressed his thanks to the customers for their trust and underlined the commitment and know-how of the Integration site employees.
Safran Nacelles holds the responsibility for the design, production, integration and after-sales support of the A320neo nacelles powered by CFM International1 LEAP-1A engines, in partnership with Middle River Aerostructure Systems. Safran Nacelles is committed to supporting Airbus on a daily basis in its ramp-ups by focusing on its industrial performance. The company has invested in optimising its production to deliver to the highest quality standards, at the expected rates. To this end, production processes were automated, Lean Six Sigma methodologies applied, and staff were trained. Safran Nacelles has installed over 20 robots and has developed an automated solution for non-destructive testing using infrared thermography coupled with augmented reality to ensure the quality of its composite material, whilst reducing inspection time by 50%.