PRF Composite Materials launches its new recycled carbon prepreg material REEPREG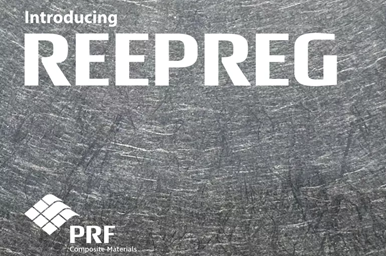 PRF Composites Materials (UK) introduced REEPREG, a new carbon prepreg material made with recycled chopped carbon mat, as part of a portfolio of products designed to deliver improved sustainability.
PRF Composite Materials is a leading manufacturer and supplier of high-performance materials for the advanced composites industry. According to the company, its processing allows almost full impregnation, which makes REEPREG drapeable and easily handled by the constructor, without falling apart when used – which sets REEPREG apart from other recycled mat products available. The mat is made using recycled carbon prepreg waste, reducing landfill from kitting and trimming. In the near future, the finished component – including scrap from trimming components – will also be recyclable, thus improving circularity and extending the life cycle of this product.
REEPREG will be available in combination with our component prepreg resin systems and in standard weights of 100gsm, 200gsm and 300gsm. The material can be processed in autoclave and press, and can be used as a core material in conjunction with our woven and UD prepreg materials.
Dave Ellson, Managing Director comments, "This product has such exciting potential. The material is quick to process and when combined with our eXpress cure resin systems, offers a solution that significantly saves time, reduces energy consumption and cost, and removes composite waste from going to landfill. Thereby making it a highly sustainable material."