New Flex option for the DIEFFENBACHER Fibercon system simplifies tape layup geometry and thickness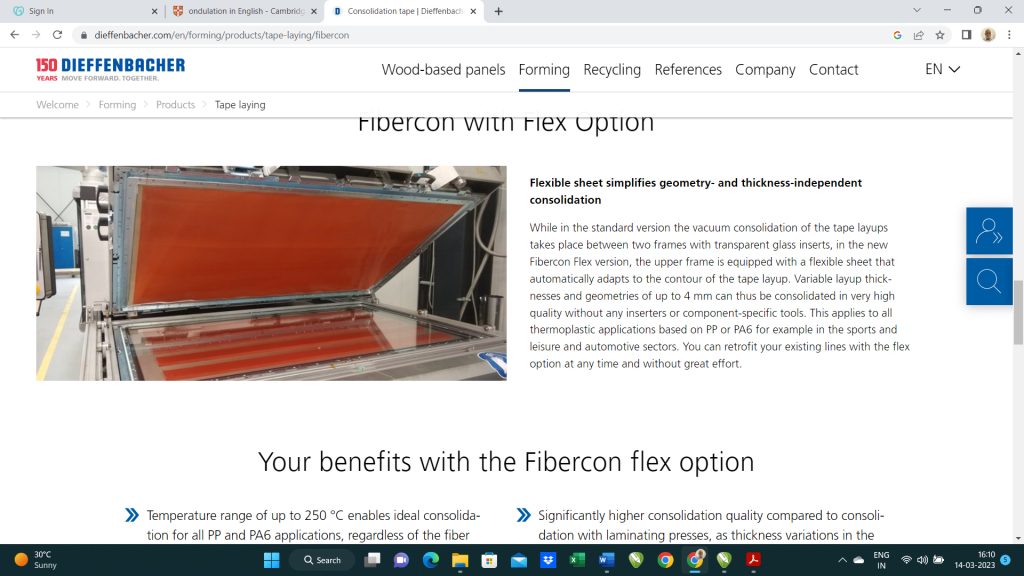 A new Flex option for the DIEFFENBACHER Fibercon system expands customers' application possibilities by making consolidation possible independent of the tape layup geometry and layup thickness. This option is available as a retrofit or as part of a new Fibercon system. The company posted details about this new option at their website which reads as follows.
The DIEFFENBACHER Fibercon system consolidates tape layups into near-net-shape laminates with excellent quality and porosity of less than 1%. Fibercon achieves exceptionally good material properties for high-quality components, making it ideal for large-scale production of individual component-specific tape layups. It's even possible to process high-performance thermoplastics without further adaptation.
Vacuum consolidation of the tape layups in the standard Fibercon version takes place between two frames with transparent glass inserts. In the new Flex version, the upper frame comes with a flexible sheet that automatically adapts to the contour of the tape layup.
Many applications, especially in the sports and leisure and automotive industries, can benefit from the new Flex option, explains Marco Hahn, Director Sales of the Forming Business Unit at DIEFFENBACHER. "In manufacturing bicycle frames and rims with high component diversity, for example—for which the Fibercon is extremely well suited—the new Flex option simplifies production." Variable layup thicknesses and geometries of up to 4 mm can be consolidated with very high quality but without component-specific tools.
With a temperature range of up to 250°C, the Fibercon Flex option is the ideal consolidation system for all PP and PA6 applications, regardless of the type of fiber used. Compared to conventional laminating presses, the Fibercon delivers significantly higher product quality, as thickness variations in the component are preserved, and neither squeeze flow nor fibre undulations occur. Unlike permanently heated laminating presses, the Fibercon heats the product directly, without any peripherals and only during actual consolidation. In this way, pause and set-up times are bridged without energy input or long heating processes. This makes the Fibercon consolidation system many times more energy-efficient and resource-saving.
"Each Fibercon is equipped with three pairs of frames as standard. With the new Flex option, each customer can choose how many of these frame pairs to equip with the standard glass insert and how many with the new flexible sheet. This ensures maximum flexibility," says Hahn. "Existing installations can also be retrofitted with the Flex option at any time and with minimal effort."