Naini Aerospace signs MOU with Garuda Aerospace for drone manufacturing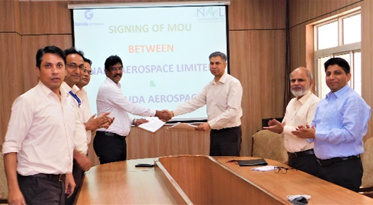 A Memorandum of Understanding (MOU) has been signed between Naini Aerospace Limited (NAeL), a wholly owned subsidiary of Hindustan Aeronautics Limited under the administrative control of Ministry of Defence and Garuda Aerospace (GA) on 20.05.2023 at NAeL, Naini, Prayagraj (UP) for collaboration in manufacturing of Drones.
Shri R.R. Thakur, CEO(NAeL) and Dr. Vijaykumar Rajarathinam, ED(GA) signed MOU in presence of Shri Agnishwar Jayprakash, CEO(GA) through VC and officials of NAeL.
This unique initiative is expected to create employment and shall boost up economic activities in Naini Industrial Area, which is also an education hub. This would be first Drone manufacturing facility in the northern India with a potential to add tremendous value to the Industries such as Security & surveillance, agriculture, mapping of lands etc. to cater to the requirements within the country.
This partnership will put their best efforts to increase indigenization of imported components required for manufacturing of Drones. Most of the components, which consists about 75% are presently being imported from China & other western countries.
Considering the shortage of manpower and high investment in agriculture sector, it has been envisaged to support our farmers by providing cost effective solutions to increase their productivity by using technology enabled Drones, especially designed to cater day to day agricultural needs. Towards this Naini Aerospace, Prayagraj along with Chennai based Garuda Aerospace has joined hands.
The drone is especially designed with a take-off weight of 25.5 Kgs and shall cover a radius of 500 m with speed of 5 m/sec. The Drone has spray efficiency of 1500-2550 sq. m/ minutes. Manufacturing of Agricultural Drones will be commenced shortly at NAeL, Prayagraj.