Limosa partners with Airborne to produce composites airframes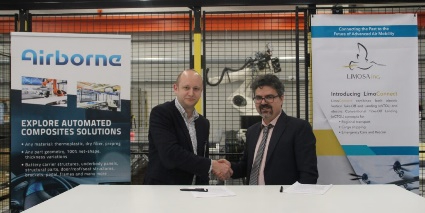 Limosa Inc. and Airborne have agreed terms to produce the Limosa LimoConnect aircraft prototype airframe in parallel to designing automated manufacturing lines and supporting Limosa's industrialisation from prototype through to serial production. With their highly collaborative approach, the partners aim for the fast ramp up of the Limosa airframe production and ensure both trade-offs and development will be able to meet the pressing timescales of OEM.
Limosa Inc., a startup based in Quebec, Canada aims to revolutionize air taxi transportation through the development of the LimoConnect all-electric, 1+7 seater Vertical and Conventional Take-off and Landing (eVTOL + eCTOL) aircraft. According to a news release, the strength of LimoConnect is its flexibility to adopt different mission capabilities as well as the capability of take-off and land conventionally so that it will use the available airports before needing the emergence and certification of new vertiport infrastructures. The type certification of LimoConnect under regulations of Transport Canada Civil Aviation (TCCA) and entry into service is planned for 2028.
Airborne has a unique capability set that covers the entire product development cycle for composites structures to bring to the partnership with Limosa Inc., from initial feasibility through to serial automated production and the supply of digital manufacturing equipment. These capabilities include design, tooling, stress analysis, prototype production and process development, economic analysis, automation and software development. Limosa Inc. founder and CEO Hamid Hamidi and Airborne Commercial Director Joe Summers signed the partnership heads of terms on the 8th February, 2023.