Large modular composites structure demonstrator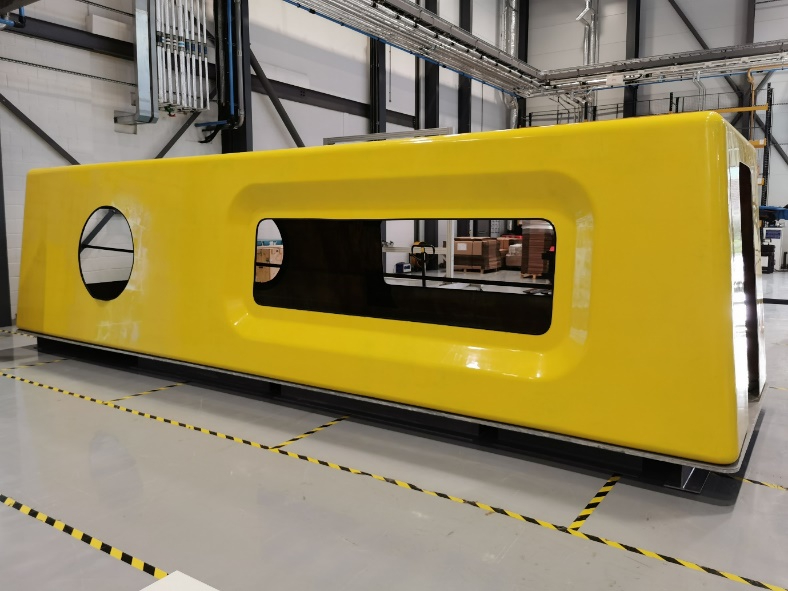 A specialist team of engineers at the National Composites Centre developed a large modular composite structure demonstrator. According to a news release, the team aimed to showcase technologies that achieved lower-cost manufacturing and reduced part count and cost of operation for large structures in safety-critical applications, when compared with traditional metallic solutions. To ensure industrial benefit, the team prioritised solutions for large composite components that could be readily assembled, making sure low-cost tooling and processes were used. With every sector being challenged to reduce capital investment and decarbonise operations, the team identified reductions in environmental impact in both component design and manufacturing methods, that industries like energy, defence, aerospace, and construction could tailor and use for their own needs.
Innovation
At 8m long, 2.5m wide, and 2m high, the demonstrator incorporates a novel combination of technologies including resin infusion and dry lay-up to offer a fresh perspective on a potential future direction for structures in the energy and construction sectors.
Consisting of two key parts – a lower frame and a monocoque shell incorporating tailored fibre placement (TFP) window preforms – the structure proves it's possible to produce large structures, typically in fabricated steel, at the same as-manufactured cost through 50% mass reduction and by reducing part-count to three from over two dozen. Importantly, this approach could deliver operational savings of £50,000 and 9 tonnes of CO2 emissions for each year of service in demanding offshore applications.
Applying the resin infusion process using E-glass and ambient cure epoxy, the team created a super-strong 30mm-thick monolithic lower frame that included moulded-in attachment features. The same process and a single shot of 250kg of resin was used to create the 6mm-thick monocoque shell that attached to the lower frame. A third component were the 'ballistic' windows in the shell. Based on conversations with potential customers, the team used glass-carbon and ambient cure epoxy and a co-infusion process to create tailored fibre placement (TFP) preform window sections.
Impact
Together, these three key components achieved the functional requirements of a complex steel fabrication but using far fewer moulded composite components than normal.But that's just the headline story. Drill down into the specific manufacturing, operational and industrial benefits and the potential impact of large-scale production becomes even more attractive.
Manufacturing benefits
A much less carbon intensive manufacturing process compared to steel, and which can be scaled for less capital investment.
Fewer parts for a more streamlined supply chain, and simpler manufacturing processes that produce less waste.
Less machining and fettling mean better geometric tolerances for a more robust assembly.
Qualified structural components, using proven materials and design principles.
Opportunities to add tailored functional elements based on customers' specific needs.
Operational benefits
The benefits for offshore infrastructure OEMs, end-users, and installation and servicing contractors are also significant:
Lightweighting – up to 50% when compared to an existing steel subsea structure.
Weight reduction makes on and offshore handling, assembly, and installation much easier and less carbon intensive throughout the whole product life cycle.
Fewer metallic components to protect, as well as corrosion-free composite components.
Reduced through-life maintenance and service costs.
Avoid up to 9 tonnes of CO2e emissions per year due to reduced fuel burn by maintenance vessels and crew.
Opportunity to increase in-service lifetime.
Lower global warming potential (GWP) through deployment and in-service
Benefits to industry
This project enhances the possibility for industry to build all sorts of projects, both on and offshore by:reducing lead times of standardised moulded structures. increasing supply chain capacity alongside existing metallic vendors.
The NCC is now working with customers to develop and exploit the capability and technology proven by this project, particularly in offshore and subsea environments.