Kineco Kaman receives major export order from BAE Systems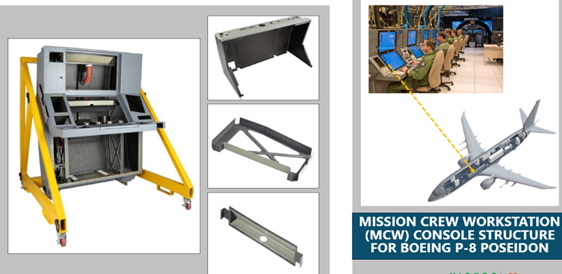 Kineco Kaman Composites India (Pilerne, Goa) announced that it has been awarded a Rs. 100 Crores ($12.39 Mn) Contract from BAE Systems to manufacture and export fully assembled Mission Crew Workstations ("Consoles") for the Boeing P-8 Poseidon Aircraft.
Kineco Kaman manufactures advanced composite parts and assemblies for aerospace and defense customers at its state-of-the-art composites facility in Pilerne Industrial Estate. The Boeing P-8 Poseidon is a long-range multi-mission patrol and reconnaissance aircraft regarded as one of the most capable aircraft in its class. The Indian Navy operates 12 P-8 Poseidon aircrafts. Kineco Kaman has been engaged on this program since 2013 and supplied over 700 Consoles to BAE Systems. Kineco Kaman has been awarded several Gold Supplier awards by BAE Systems for its 100% on-time delivery & quality performance. In 2020, it was awarded the BAE Systems "Partner2Win Supplier of the Year" award for its exceptional performance.
Commenting on the contract, Shekhar Sardessai, Founder of Kineco Group and Chairman & Managing Director of Kineco Kaman said: "BAE Systems is a very special customer for us and we truly cherish our long-standing relationship with them which has achieved extraordinary success for both the companies. A contract of this size reaffirms the confidence BAE Systems has in Kineco Kaman as a reliable and competent partner. On behalf of Kineco Kaman team and on my personal behalf, I would like to thank BAE management for their continued trust and support to Kineco Kaman. "
Adam Watson, Managing Director BAE Systems India said: 'Our long-standing relationship with Kineco Kaman is reflective of their consistent performance, vision and growth, making them a truly a reliable and valued partner in our Global Supply Chain which now includes 79 Indian companies'.
Kineco Kaman's facility has achieved several global certifications such as AS9100 (Rev-D) NADCAP, ISO 14001 & 45001 and ZED (Zero Defect – Zero Effect) gold rating, besides several other customer specific qualifications. Kineco Kaman exports its products to global aerospace OEM's, which include those in the US, Europe and Israel. Kineco Kaman is a recipient of Gold Supplier award from BAE Systems for maintaining a 100% on-time delivery & 100% quality performance in 2018, 2020 & 2021. Kineco Kaman is also a major supplier of composites parts and assemblies to Hindustan Aeronautics Limited (HAL) for their various program, as well as the Indian Space Research Organization's (ISRO's) satellite & launch vehicle programs. Kineco, a first-generation enterprise founded by Shekhar Sardessai in 1995, is one of India's leading composites manufacturing companies with a strong focus on the mass transit, aerospace and defense sector. Kinaco Kaman is a joint venture with Kaman Corporation USA.