Kineco Kaman is proud to be a significant contributor to 3rd Lunar Mission: Chandrayaan-3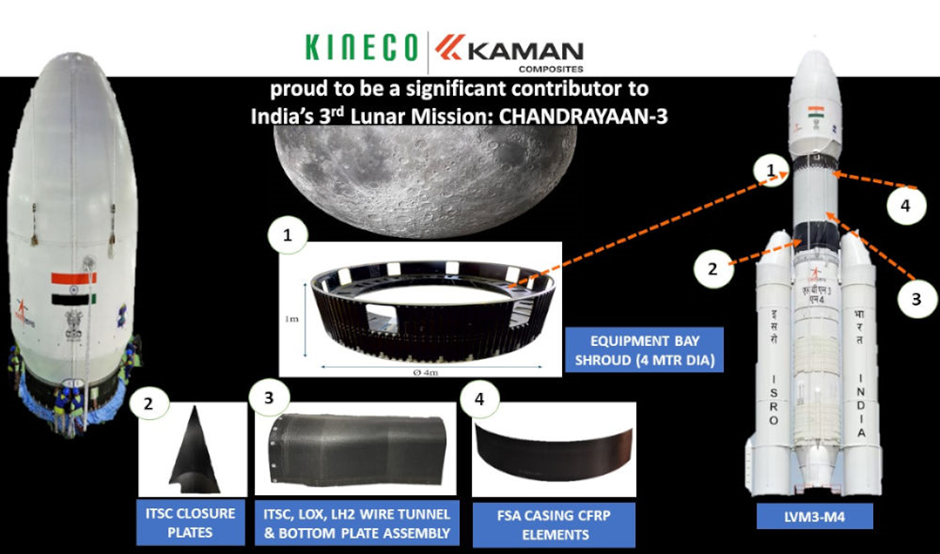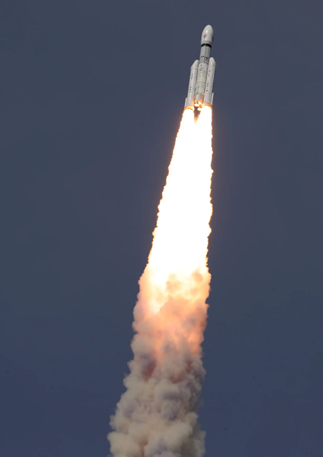 Seconds after ISRO's LVM3-M4 launch vehicle carrying India's Chandrayaan-3 Mission, rode a blaze of flame into the sky on July 14, 2023, at 2:35 pm from the Satish Dhawan Space Centre in Sriharikota, employees of Goa based Kineco Kaman Composites cheered in jubilation, clapped, pumped fists, shook hands, hugged and congratulated each other for playing their part in this historic launch.
Kineco Kaman Composites, a Joint Venture between Kineco Group and Kaman Aerospace Group, USA is proud to be a significant contributor to Chandrayaan-3 Mission having supplied 4 flight critical components which form part of the LVM3-M4 launch vehicle:
1. Equipment Bay Shroud Assembly
2. ITSC Closure Plates
3. ITSC, LOX & LH2 Wire Tunnel & Bottom Plate Assembly
4. FSA Casings CFRP Elements
Chandrayaan-3 is India's third moon mission to demonstrate end-to-end capability in safe landing and roving on the lunar surface. Chandrayaan-3 consists of an indigenous lander module (LM), propulsion module (PM), and a rover with an objective of developing and demonstrating new technologies required for inter-planetary missions. According to ISRO, the lander has the capability to soft land at a specified lunar site, and deploy the rover, which will carry out in-situ chemical analysis of the lunar surface during the course of its mobility. The Lander and the Rover have scientific payloads to carry out experiments on the lunar surface.
Kineco Kaman's Space odyssey with VSSC started in 2014 with the supply of first project of 10 Dual Helix Antennas for the Indian Regional Navigational Satellite program (IRNSS) post which it has proved to be the supplier of choice for ISRO-VSSC for their Composites requirements.
Kineco Kaman's expertise in manufacturing structural parts for the Space Launch Vehicles was further validated when it became India's 1st private entity to successfully supply the Equipment Bay Shroud assembly which was used for the LVM3-M2/OneWeb India-1 Mission which successfully placed a constellation of 36 broadband satellites to Low Earth Orbit.
Kineco Kaman is working on the 1st Crew Orbiter Module Adaptor Assembly (OMA) which is expected to be used for the India's first human space flight mission, Gaganyaan. Kineco Kaman's is committed to continually invest in technology & capability upgrades to move up the value chain and contribute to Aatmanirbhar Bharat mission in Aerospace & Defense domain.