Innovative composites scour protection system for offshore wind sector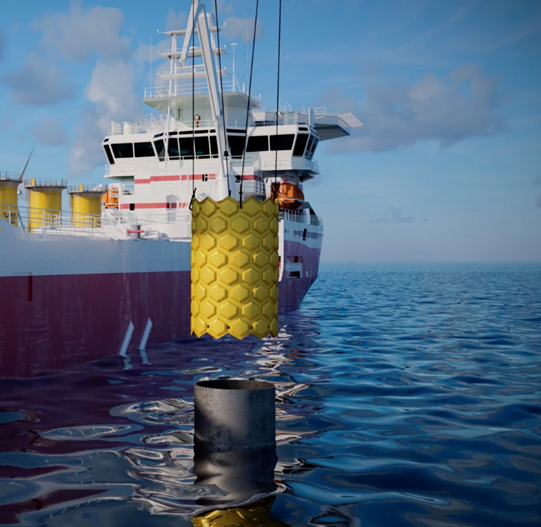 Established supplier to the oil and gas sector, Balmoral (Balmoral Comtec Ltd, UK), has adapted and transitioned several of its proven buoyancy and protection solutions for use in the fixed and floating offshore wind sector. Tried and trusted products such as buoyancy, cable protection, bend limiting devices and crossover solutions have been readily accepted by the wind sector that is keen to build an experienced and reliable supply chain.
Balmoral recently announced that following extensive research and investment, the company has brought a completely novel and globally patented product to market which aims to drastically reduce scour phenomena around fixed wind turbines that cause seabed erosion and a reduction in foundation strength and stiffness.
These conditions can lead to turbine foundation instability and inter array cable damage ultimately resulting in expensive cable failure. To mitigate these consequences, scour protection is used to defend the seabed around a monopile structure.
Scour protection typically involves the installation of a layer of material around the base of the monopile to prevent sediment erosion. This can be made of various materials including rock, concrete or a specially designed geotextile fabric. The layer is placed on the seabed around the monopile to dissipate the energy of the fluid flow and reduce erosion rates.
These measures need to be carefully monitored to avoid damage to the turbine, seabed and any associated cabling. The costs involved in this process, along with the carbon footprint implicated with extra quarrying and vessel time for installation, is significant.
Lightweight composites construction
To address these issues, Balmoral developed Balmoral HexDefence™, an exclusive scour protection system that integrates seabed protection and flow reduction to minimise offshore operational costs and potential cable failure.
The HexDefence structure eliminates the requirement to dump rock, instead providing a non-invasive approach to protecting the monopile and the immediate surrounding area.
The lightweight advanced composites construction and streamlined installation method makes it easy to install without the need for additional vessels resulting in an improved carbon footprint for all operations.
Additionally, the system is capable of use with antifouling coatings and does not require special equipment for end-of-life recovery.
Following positive discussions with leading wind farm developers and industry bodies Balmoral has been encouraged to bring the product to market as soon as possible.
Fraser Milne, the company's engineering and projects director said: "We believe Balmoral HexDefence represents a significant step forward for scour protection, offering highly cost-effective performance enhancement across installation, management and maintenance. The interlocking panels are generally 10m long and custom-sized to fit varying monopile diameters and feature integrated lifting and access points. In simple terms, the installation process involves sinking the foundation, sleeving it with HexDefence, fitting the transition piece and assembling the pylon and blades. The system is also suitable for retrofitting to existing monopile structures."