Infinite Composites to develop conformable fuel tanks for hydrogen storage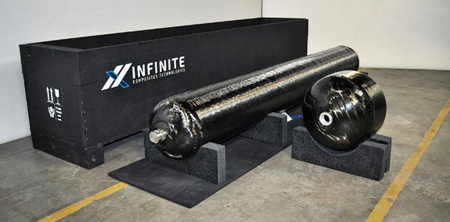 Infinite Composites Inc. (US) signed a contract for a $1.6 million small business innovative research (SBIR) direct to phase II contract by the US Army to develop conformable hydrogen tanks.
Hydrogen is becoming an attractive alternative fuel source for both military and commercial vehicle applications as a replacement for fossil fuels. The US Department of Defense has created several initiatives to increase funding to develop new and improved hydrogen technologies for military vehicles including aircraft, ground support, and marine applications. Infinite Composites' proposal was selected to focus on improving the storage technologies for hydrogen fuel, specifically, the shape of the storage container.
Hydrogen is stored at high pressures, usually between 350-700 bar (5,000-10,000 psi) for vehicle applications. Compressing hydrogen to these pressures allows for more fuel to be stored. Typically, hydrogen fuel tanks are cylindrical in design and shape, sometimes spherical, to allow for this pressure to be evenly distributed. However, traditional form factors are not necessarily the best shape for many vehicle designs. The proposed solution for conformable tanks could revolutionize the way hydrogen is stored and transported in military and civilian applications, making it more efficient and effective. Allowing the hydrogen fuel tanks to be placed in more strategic locations in the vehicle, such as the wing of an aircraft.
"These tanks will be manufactured using 90 percent additive manufacturing processes and are designed to be lightweight, using non-cylindrical geometries, making them easier to transport and use in a variety of different environments," said Matt Villarreal, CEO and Co-Founder of Infinite Composites. "They are made of advanced composite materials that leverage nano-scaled reinforcements, allowing for greater strength and durability while maintaining a lightweight design."