Hexagon Agility launches next generation Mobile Pipeline® modules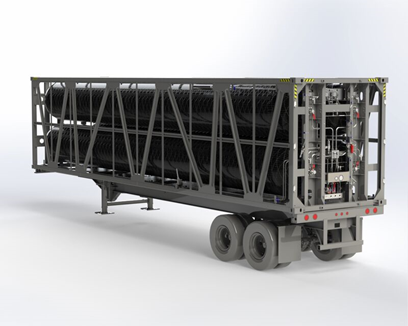 Hexagon Agility®, a business of Hexagon Composites, signed a multi-year agreement in March 2021 with Certarus, a leading full-service provider of bulk gas transport, to supply newly designed TITAN 450 Mobile Pipeline® modules. Hexagon Agility's TITAN 450 modules represent the next generation of gas distribution modules and will be used to transport compressed and renewable natural gas (CNG/RNG) throughout North America.
TITAN 450 enables the safe transport of almost half a million standard cubic feet of CNG/RNG in a 40-foot module, allowing customers to deliver more gas with fewer trips, resulting in reduced operating costs. The new product employs the latest technology in Type 4 composite cylinders and high-strength frame design, while building on the proven simplicity and reliability of TITAN. As with the current generation of TITAN products, the modules are approved for a variety of gases including CNG, RNG (Renewable Natural Gas), Helium, and Hydrogen.
This new generation module is fully interchangeable with existing TITAN products and reflects Hexagon Agility's relentless commitment to safety. The new design delivers best in class Static Rollover Threshold (SRT) in the industry. SRT is a measure of a trailer's resistance to rollovers.
Natural gas is a low carbon, cost effective alternative energy. RNG is the only available carbon negative energy source. It is being rapidly adopted to drive decarbonization of industrial and vehicle fleet operations.
Hexagon Agility's Mobile Pipeline® solutions have the largest transport capacity worldwide and enable the safe transport of RNG/CNG or other industrial gases by truck, marine vessel, or rail – allowing users lacking pipeline infrastructure to reduce energy costs and greenhouse gas emissions quickly and efficiently.
With more than 1,800 Mobile Pipeline modules now deployed around the world, Hexagon Agility continues to set the standard for safety, reliability, and performance. The new TITAN 450 modules will be produced at Hexagon Agility's facility in Lincoln, Nebraska and are expected to be delivered in the third quarter of 2023.