Hartzell develops five-blade composites propeller to replace the four-blade aluminum propeller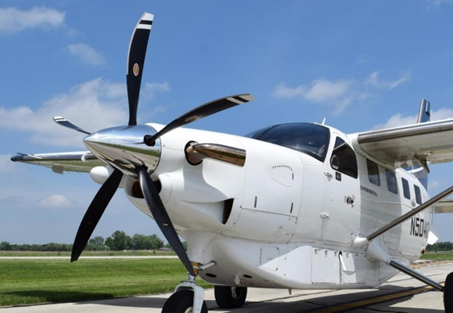 Hartzell Propeller announced five-blade composites propeller for Daher Kodiak 100 aircraft and will be available as a factory option and for retrofit under Hartzell's Top Prop program. The propeller can replace the four-blade aluminum Hartzell prop, now standard equipment on Kodiak 100s. The Daher, Hartzell development was announced by Daher at SUN 'n FUN Aerospace Expo, held in Florida from March 28 to April 2. The aerodynamic design of the new propeller's carbon fiber blades allow RPM to be reduced from 2,200 to 2,000 RPM, reducing noise while producing smoother operations with no loss in climb and cruise performance.
The new Hartzell prop for the Kodiak 100 also provides a significant noise reduction of six dB(A) compared to the current standard prop. As part of the flight test plan, measured flyover noise was 77 dB(A), significantly lower than the Aircraft Maintenance Engineering License (EASA) requirement of 85 dB(A), and less than the strict German requirement of 78 dB(A).
The new 96-inch diameter prop saves 13 pounds of rotating weight by utilizing Hartzell's Raptor propeller system and carbon fiber blades. The prop includes anti-ice, and maintains FIKI (flight into known icing) status. The five-blade propeller upgrade is available immediately as a factory option on new Kodiak 100s, and via the Hartzell Top Prop conversion program for the entire installed base of Kodiak 100 aircraft.