"Harnessing Offshore Wind for Accelerating Energy Transition: The Way Forward"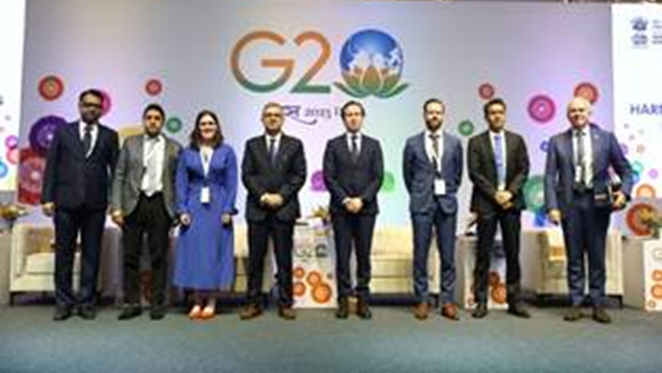 As part of the third Energy Transition Working Group (ETWG) meeting under India's G20 Presidency, the Ministry of New and Renewable Energy (MNRE), Government of India, in collaboration with the Global Wind Energy Council (GWEC) and National Institute of Wind Energy (NIWE) convened a high-level event "Harnessing Offshore Wind for Accelerating Energy Transition: The Way Forward" on 16th May, 2023 in Mumbai. The event brought saw a gathering of government representatives, financial institutions and senior domestic and international industry representatives. The event emerged as a platform for the exchange of urgent priorities for bolstering offshore wind deployment in India and globally ­- permits and clearances, supply chain resilience, low-cost financing, capacity building and business volumes to boost market attractiveness.
Mr Bhupinder Singh Bhalla, Secretary, Ministry of New and Renewable Energy (MNRE), Government of India, attributed offshore wind as a solution to air pollution and climate change mitigation. He emphasized the jobs creations opportunity through the flourishment of the offshore wind value chain. He outlined India's strides in harnessing offshore wind given its role in balancing the grid. He further added that India's G20 Presidency is an opportunity for offshore wind countries, businesses, and financial institutions to work together and build on mutual strengths to support national, regional, and global offshore wind and clean energy transition ambitions.
Mr Alok Kumar, ETWG Chair and Secretary Ministry of Power, Government of India emphasized the ever-growing role of offshore wind in India's power mix. He outlined how India's offshore potential is almost comparable to hydro and nuclear capacities that India may add in the future. In addition, he suggested how having an offshore wind horizon, beyond 2030, emerges as an opportunity for the country and a mission mode approach may give even further force to the country's aspirations that may lead to the development of a robust value chain and attract more enthusiastic participation of the industry.
Mr Dinesh Dayanand Jagdale, Joint Secretary, Ministry of New and Renewable Energy (MNRE), Government of India, outlined the country's progress on various facets of offshore wind – including proposed business models, upcoming plans of rolling out tender, international collaborations, and extensive engagements between government and the industry to facilitate a robust enabling environment.
Mr Sumant Sinha, Chairperson of GWEC India said that collaboration between government and industry and partnership between Indian and international offshore wind companies, as well as power generators and original equipment manufacturers, and finally the role of multilateral development banks. He also pressed for long-term PPAs and necessary infrastructure. He also added on supply chain resilience- availability of customized equipment, ships, cables, and trained people among others.
There were two high-level panel discussions moderated by Ms Rebecca Williams, Global Head of Offshore Wind, GWEC and Mr Chintan Shah, former Director of IREDA, respectively. The session titled "Role of Global Offshore Wind Sector in Reaching Net Zero Targets" focussed on deliberations around global offshore wind experience, international best practices, supply chain priorities, and expectations of the industry from the emerging Indian offshore wind market.
The panel discussion on "Financing and Capacity Building for Offshore" presented a comprehensive view of available instruments to feed the need for the development of an offshore wind ecosystem. Senior representatives of ADB, World Bank, Corio Generation, Aon, NTPC REL Limited, NIWE, ReNew, IREDA, Center of Excellence on Offshore Wind and Renewable Energy, IEA, O2 Power and SGRE among others spoke in these panels.
In his concluding remarks, Mr Dinesh Dayanand Jagdale, Joint Secretary, MNRE, summarized the enriching discourse as part of the event and thanked distinguished speakers and esteemed participants for their enthusiastic participation.