HAL to supply 6 Dornier-228 aircraft and 70 HTT-40 Basic Trainer Aircraft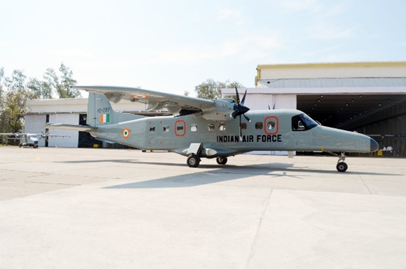 Ministry of Defence recently signed a contract for procurement of six Dornier-228 aircraft and 70 HTT-40 Basic Trainer Aircraft for the Indian Air Force (IAF) from Hindustan Aeronautics Limited (HAL) The Dornier aircraft was used by IAF for Route Transport Role and communication duties. Subsequently, it has also been used for training of transport pilots of the IAF. The present lot of six aircraft will be procured with an upgraded fuel-efficient engine coupled with a five bladed composite propeller. The aircraft is ideally suited for short haul operations from semi-prepared/short runways of the North East and island chains of India. The addition of the six aircraft will further bolster the operational capability of the IAF in the remote areas.
The HTT-40 is a turbo prop aircraft possessing good low speed handling qualities and provides better training effectiveness. This fully aerobatic tandem seat turbo trainer has an air-conditioned cockpit, modern avionics, hot re-fueling, running change over and zero-zero ejection seats. The aircraft will meet the shortage of basic trainer aircraft of Indian Air Force for training of newly-inducted pilots. The procurement will include associated equipment and training aids including simulators. Being an indigenous solution, the aircraft is configurable for upgrades to incorporate the futuristic requirements of the Indian Armed Forces. The aircraft will be supplied over a period of six years.
The HTT-40 contains approx. 56% indigenous content which will progressively increase to over 60% through indigenisation of major components and subsystems. The HAL would engage the domestic private industry, including MSMEs, in its supply chain. The procurement has the potential to provide direct and indirect employment to thousands of people spread over more than 100 MSMEs.