Flax fibre with biobased resin used for making sustainable luggage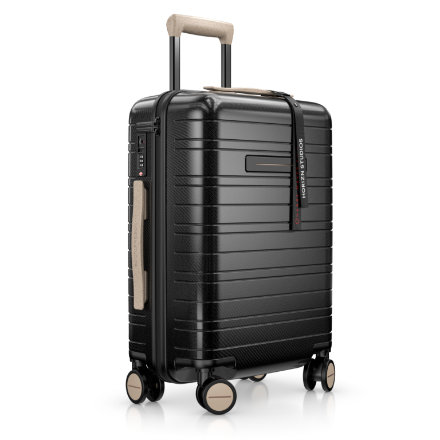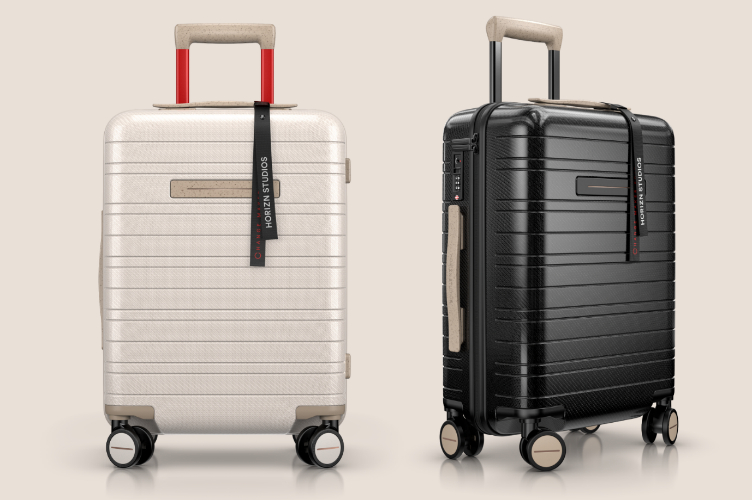 Natural fibre composites
Bcomp, the provider of natural fibre reinforcements informs that HORIZN STUDIOS, a leading travel product brand has come out with sustainable luggage solution utilising its flax fibre products. Already proven in the world of motorsport and the equally challenging arena of ultra-high-end furniture, Bcomp's innovative ampliTex™ and powerRibs™ are ground-breaking carbon-neutral composites reinforcements made entirely from flax fibre.
Cultivated across Europe, flax is an indigenous plant that has been part of the agricultural industry for centuries. With low water and nutrient requirements and little need for pesticides and fertilisers, it is a popular rotational crop with excellent utility – useful for feed, making flax oil, and its fibres can be used in textiles.
According to Bcomp, ampliTex™ and powerRibs™ make the most of flax's inherent mechanical properties, creating composite parts with high stiffness, resistance to breakage, torsion, and compression – perfect to form the shell of tough and sturdy luggage. Using appropriate care and processes, Bcomp's materials also offer a flawless surface finish, suitable for luxury product applications.
Most importantly, ampliTex™ and powerRibs™ are some of the most sustainable composite technologies available today, particularly in the high-performance category. Analysis of past projects has shown that Bcomp's technologies can provide a material emission reduction of 90% when compared to its most commonly used equivalent, carbon fibre. Overall, they offer an outstanding 80-85% cradle-to-gate emission reduction, while retaining many of the performance benefits.


HORIZN STUDIOS's new Circle One range.
Launched in 2015, HORIZN STUDIOS was Europe's first direct-to-consumer travel brand. Focused on innovative design, convenience, and sustainable solutions, it was the first company in the world to release luggage with a removable charging function. Dismayed by 'throwaway' culture, its founders Jan Roosen and Stefan Holwe wanted to design and engineer aesthetic travel solutions with long-term quality and durability. Through this journey, HORIZN STUDIOS developed several interesting travel products, even collaborating with NASA astronaut Alyssa Carson in 2019.
In 2021, however, HORIZN STUDIOS was looking to really revolutionise luggage design. Despite the challenges of the global pandemic, the company intended to create the world's most sustainable luxury luggage. Embracing a philosophy of lightweight, high-performance, and sustainable materials, HORIZN STUDIOS sought out a partner that would be able to simultaneously fulfil these demanding criteria.
Circle One is HORIZN STUDIOS's European-made sustainable luggage range, harnessing ampliTex™ in its BioX technology, a patented hard-shell luggage innovation. With a much lower carbon footprint than carbon fibre or aluminium – including energy consumption in manufacture and use of a bio-based resin – BioX is one of the most sustainable hardcase luggage materials on the market. Thanks to ampliTex™, BioX is not only a more sustainable material, but it even allows to eliminate some petroleum-based materials that would normally be used from the manufacturing process.
Unlike other luggage materials that would be sent to landfill at the end of their useful life, the Circle One range has various end-of-life recycling options thanks to Bcomp's flax fibre composite technologies. The ampliTex™ also opens up the possibility of repair, rather than replace, something of great interest to the HORIZN STUDIOS team.
With the circular economy and sustainable products becoming an increasingly important part of consumer purchasing decisions and lifestyle, the use of innovative natural composites is the perfect way to integrate carbon-neutral, sustainable materials. With excellent stiffness, low weight, and the possibility of stunning surface finishes and designs, Bcomp's technologies offer a sustainable alternative to manufacturing conventional luxury and performance products.