First ever drone exhibition cum display 'Bharat Drone Shakti 2023'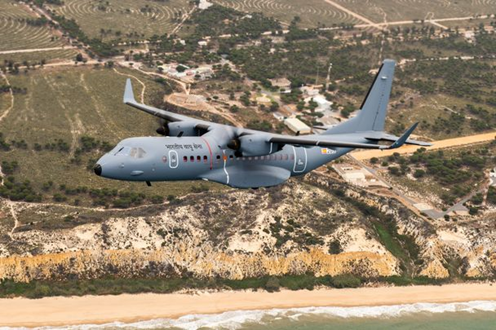 C-295 MW transport aircraft
Bharat Drone Shakti 2023, a first-of-its-kind drone exhibition cum display was inaugurated by Raksha Mantri Shri Rajnath Singh at Air Force Station, Hindan in Ghaziabad, Uttar Pradesh on September 25, 2023. It was jointly organised by Indian Air Force (IAF) and Drone Federation of India (DFI). The two-day event, which held on September 25 & 26, 2023, featured over 75 drone start-ups from across the country.
The drones featured during the event can be employed for a variety of military and civil applications. By showcasing their capabilities through a series of aerial & statics demonstrations, the IAF and DFI seek to bolster the Government's initiative to make India a major drone hub by 2030.
The inauguration of Bharat Drone Shakti 2023 was followed by the formal induction of the first C-295 MW transport aircraft into the IAF. This medium lift tactical aircraft, which is capable of taking off and landing from unprepared landing grounds, will replace the HS-748 Avro aircraft.
While the first 16 of the 56 contracted aircraft will be delivered to the IAF in a 'fly-away' condition, the remaining 40 would be manufactured in India by Tata Advanced Systems Limited at their facility in Vadodara. The first IAF squadron to be equipped with the aircraft, 11 Squadron (The Rhinos), is also based at Vadodara.
During the event, the Raksha Mantri & the dignitaries were also briefed on the latest in-house innovations of the IAF at an exhibition which featured projects such as a Hybrid Drone Detection System, Al Engine for fault diagnosis, a Fly-By-Wire Tester, Stabilized Power Supply Trolleys, QR Code based Tool Crib management system and also modern teaching aids.