Enhancing performance of polypropylene composites with new manufacturing technology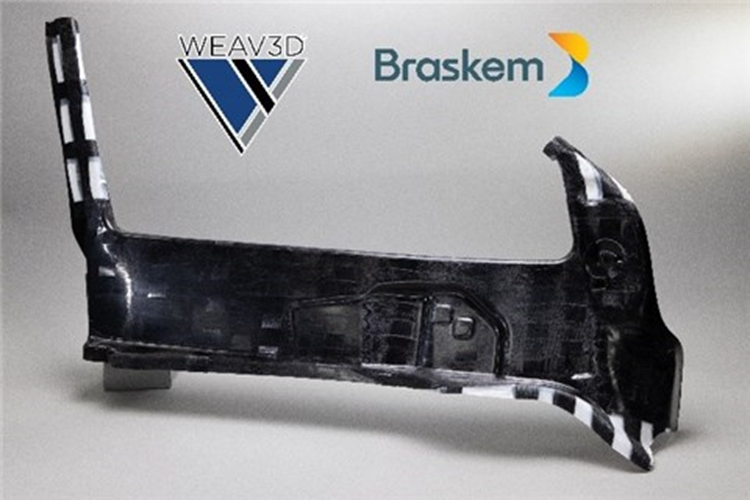 Braskem, the largest polyolefins producer in the Americas as well as a market leader and pioneer producer of biopolymers on an industrial scale, introduced a novel demonstrator of its polypropylene (PP) in combination with WEAV3D Inc., an advanced manufacturing and materials startup, leveraging WEAV3D's thermoplastic composites lattice technology to enhance the performance of PP for structural and automotive material applications.
Braskem announced that the WEAV3D lattice technology enables lightweight PP parts to replace materials like steel, increasing PP's use in automotive applications by balancing improvements in performance, weight, and cost. The combination of Braskem PP sheets with WEAV3D's Rebar for Plastics will allow Braskem to compete in new structural material end-markets.
"We're excited to offer our clients new innovations and partnerships around high-performance polypropylene materials utilizing the WEAV3D lattice technology. As the automotive industry continues to roll out new electric vehicle designs, it requires automakers to re-think the vehicle design with cutting-edge performance materials. With significant improvements in lightweighting, reduced costs, and higher material efficiency, combining Braskem's PP portfolio with WEAV3D composite lattices provides a 'win-win' in terms of enhanced material performance and a more sustainable environmental impact, including the integration of natural fiber options," Amanda Zani, Technology Platform Manager, Braskem.
Benefits of using WEAV3D's Rebar for Plastics® and Braskem Polypropylene vs. conventional composite organ sheet:
Lightweight – Reduces sheet blank weight by ~50% and final part weight by ~20%
Cost Effective – Reduces costs by ~50%
Efficient – Increases sheet yield from 25% to 45% by weight, resulting in a 63% reduction in trim waste
"Braskem has been a fantastic partner throughout this project and really demonstrated a strong commitment to sustainable materials innovation," says Chris Oberste, President of WEAV3D. "Leveraging Braskem's diverse polypropylene portfolio and deep technical expertise, we worked collaboratively with the Braskem team to identify the right combination of Braskem PP and reinforcing lattice material in order to minimize cost and maximize performance, while achieving formability and sustainability goals."
Headquartered in metro Atlanta, Ga., WEAV3D is an innovator in composite materials, manufacturing processes, and processing equipment, having spun out of the Georgia Institute of Technology in 2017. WEAV3D's patented composite forming technology integrates weaving and composite consolidation into an automated, continuous process that reduces waste, cycle times and material handling costs. When combined with injection overmolding, thermocompression, or thermoforming, this novel Rebar of Plastics® approach improves part stiffness and strength while minimizing weight, enabling new innovations in the automotive and construction markets at a fraction of the cost and cycle time associated with traditional composites manufacturing.