Collins Aerospace to lead the development of thermoplastics for liquid hydrogen tanks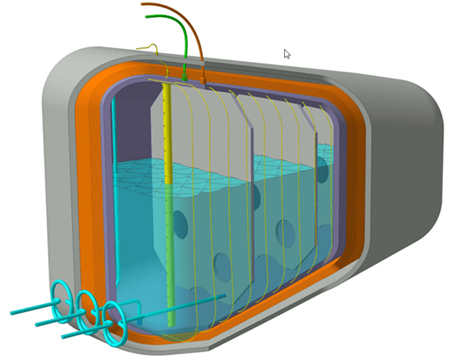 Collins Aerospace, a Raytheon Technologies business, has been selected under the Clean Hydrogen Joint Undertaking to lead a consortium working to develop new thermoplastics technology for the liquid hydrogen tanks necessary to power hydrogen propulsion architectures in future more sustainable aircraft.
The Collins-led consortium will bring together Collins sites across France, Italy, United Kingdom, Poland, the Netherlands, U.S. and Ireland along with NLR (Netherland Aerospace Centre), Delft University of Technology, ATR, Novotech, and Unified International.
While liquid hydrogen contains approximately three times as much energy per kg as traditional jet fuel, it has a lower specific density meaning that it requires nearly four times as much volume to match the energy content of the same mass of traditional jet fuel. To overcome this, thermoplastic tank structures are in development. This strong, yet lightweight tank design is the focus of the new project.
"The COCOLIH2T (COmposite COnformal LIquid H2 Tank) project addresses the challenges of shifting from traditional jet fuel to a fully sustainable, clean burning hydrogen fuel" said Mary Lombardo, vice president, Advanced Technologies at Collins Aerospace. "Compared with traditional fuel tanks, hydrogen tanks must reduce weight and enable containment of cryogenic fluid. COCOLIH2T is the kind of aerospace industry cross-collaboration Collins is focused on to reduce the environmental impact of aviation and lead us to a sustainable future"