INTERNATIONAL CONFERENCE ON REINFORCED PLASTICS 18th-20th January 2023
Bombay Exhibition Centre, Mumbai
Composites-Versatile Future Materials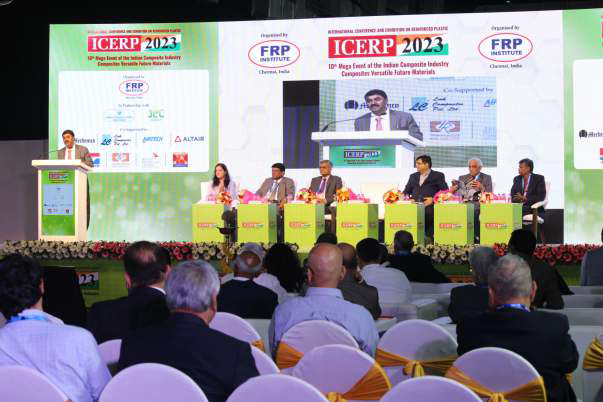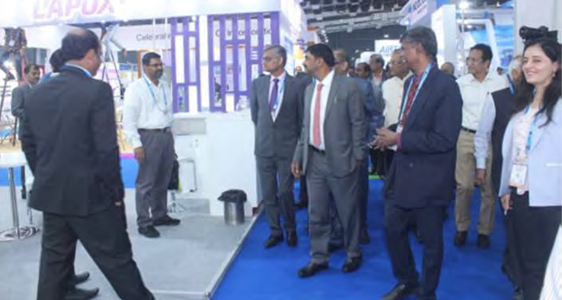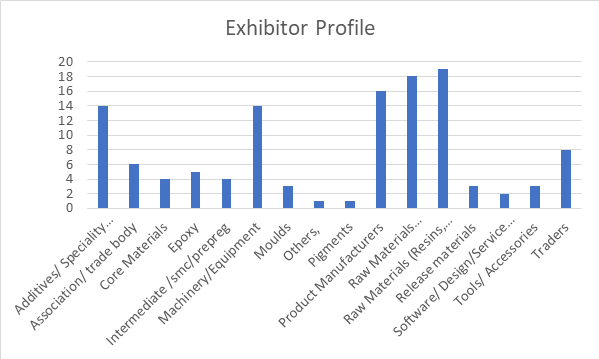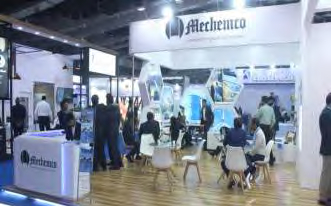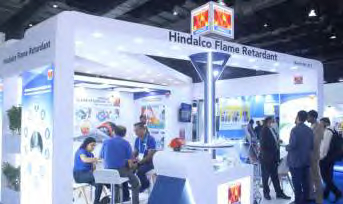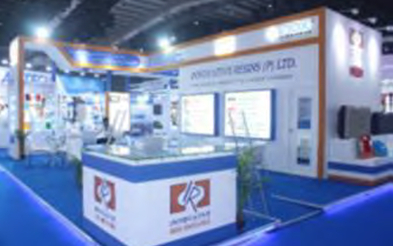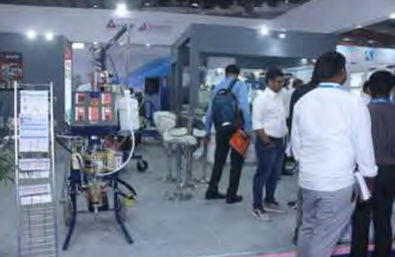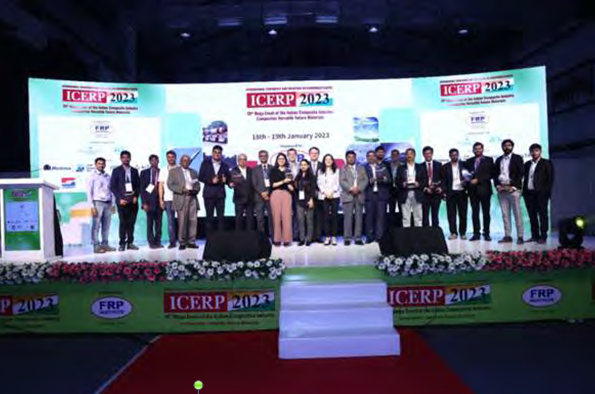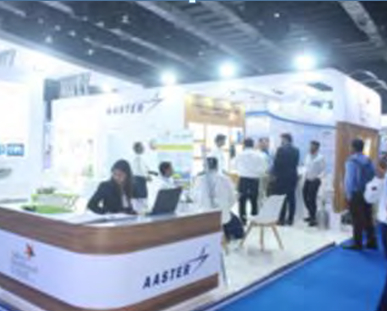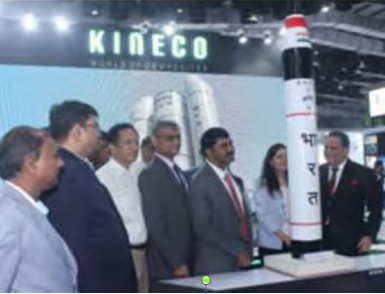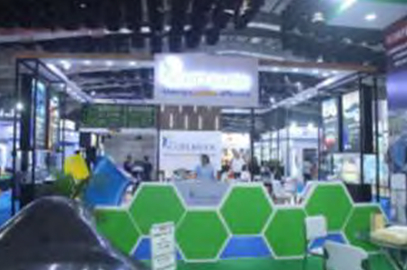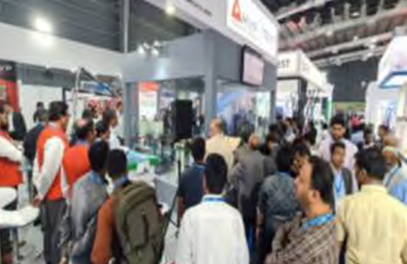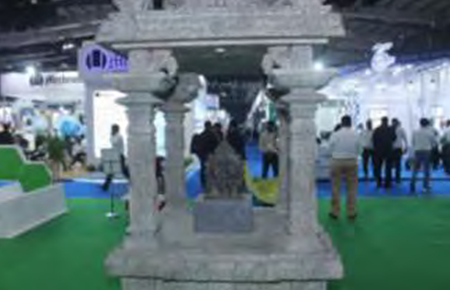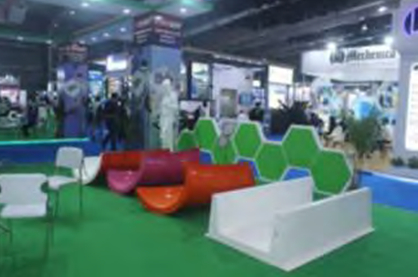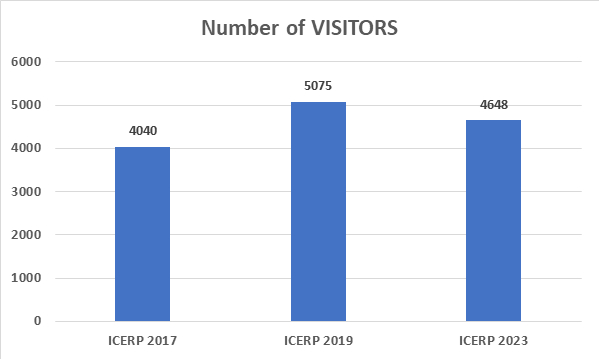 Introduction: International Conference and Exhibition on Reinforced Plastics (ICERP 2023) was held during 18th to 20th January 2023 at Bombay Exhibition Centre, Goregaon (East), Mumbai. The ICERP event is being organized by FRP Institute and the aim of ICERP event is to bring together the entire composites value chain to explore new business opportunities in the field of Fibre Reinforced Polymer Composites and to give updates on latest technological advancements and developments on Composites. The event had following programmes such as Exhibition, Conference, Innovation Award Programme, product display, process demonstrations, Technical Sales Presentations, networking programmes and business meetings.
Inauguration: The event was inaugurated on 18th Jan 2023 at 10:30 AM by the Chief Guest, Dr. G. Satheesh Reddy, Scientific Advisor to Defence Minister, Govt of India. He gave a very inspiring speech to the Composites industry professionals to make India one of the leading Hub for Composites Manufacturing and to make India Self-reliant on various applications sectors. He emphasized the importance of Materials Technology, Composites applications in various Sectors, Need for Innovation Institutes, Funding opportunities created by Govt of India. He suggested the Industry professionals to deliberate on Industry needs and come up with suggestions.
Excerpt from his speech is given below:
"The utility of the composites materials has been expanding to all the domains of the society whether it is civilian or the automobile or the aerospace or the defence sector. Applications of composites have been growing day by day because of the special features available with these materials. In the field of composites, lot of work has been done in the country and various organisations are working and trying to improve the capability in the country. National Aerospace Laboratory at Bangalore, the Defence Metallurgical Laboratory (DMRL) at Hyderabad, Advanced System Laboratory and other laboratories which are under the Department of Space or in the Department of Atomic Energy, are striving to work on new technologies. That is how in the aviation sector or in the space sector or in the defence sector, or in the automobile sector, the applications of composites have grown.
For any country to be self-reliant, or any country to prosper, two things are important. One is that the country should be strong enough in its materials technologies and in materials processing technologies. Second the country should be strong in manufacturing sector utilising innovative technologies".
The country has been working on various materials and there are necessary policies in place to support the materials development in the country. Composites industry plays a major role, and the industry is growing large and will contribute in largescale in future with products which are going to come up. I suggest that the composites industry should have a couple of Centre of excellence or innovative manufacturing institutes in the country. With the support of the industry and the government, we can bring in latest innovative technologies. The centres can be at academic institutes or can be in a cluster of industries wherever they are existing. For example, the one we have in our country- the South India Textile Research Association (SITRA), which is based at Coimbatore, a research institute sponsored by the industry and the government.
Further, the Ministry of Defence through various schemes and mechanism, have been supporting the whole industry and innovations in a big way and composites industry in specifically. Taking the composites utility in various sectors of industries is one aspect, and secondly supporting many schemes in R&D and innovations in the industry.
I request this conference to deliberate on the technologies- what are the trend, what are the new technologies, and what is the way forward and if possible, also deliberate on who should do what. We should know which the academic institutes, R&D organisations, and industries, and how do they work and who are all working in this area. If you can devise these, we will be able to take that forward and support the academic institutes, R&D organaisations, I suggest you to come out with what you need from the government-the support mechanism- and submit a paper to us. We will again deliberate and take-up with the government and will try to see what the measures the industry needs in the country to make this particular sector way forward".
Earlier in the programme, the keynote address was delivered by Mr. Pawan Tyagi, Business Head, Reliance Composites Solutions and he stressed upon importance of quality and standards, Carbon fibre manufacturing and capacity building outlook by Reliance Industries Ltd.
Mr. Pawan Tyagi said that from his experience with composites the major challenge the composites industry facing is the price. Other challenge the composites industry facing is the quality issue. If we focus on quality and operational excellence the composites industry has significant gap and we need to build on.
Talking about Reliance Composites solutions (RCS) he said that, through acquisition from Kemrock Industries by Reliance Industries Limited (RIL), RCS is the only organization in the world having all possible composites manufacturing processes under one roof. RIL aims to become largest producer of UPR and specialty epoxy resin in India through innovation and Product Development
Referring the emerging new avenues, he said that Carbon Recycle and Circular Economy is a multi-trillion business and is an opportunity for India and the world. Opportunity to make clean and green energy is abundantly available at an affordable price. New Energy proposition is key to achieving to the committed Net Zero carbon by 2035 goal.
Quoting RIL Chairman he said that New Energy business is far more ambitious, far more transformational, and far more global in scope than anything Reliance has ever done before.
Explaining RIL's focus on composites business, he said that development of New Materials is key requirement to support for New Energy business. Consistent with RIL's vision for New Materials, it will build in phases India's first and one of the world's largest carbon fibre plant at Hazira with a capacity of 20,000 MTPA. RIL will Integrate composites business with carbon fibre to produce carbon fibre composites. Carbon fibre enables meeting the rapidly growing light-weight requirements of mobility and renewable energy, thus promises to be a multi decade growth engine. For Reliance, Hydrogen is not new as the largest producer of Grey Hydrogen. To uptake this Green Hydrogen and enable storage and Transport capacity, RIL will work towards developing Type-III, Type-IV Pressure Vessels.
The ICERP 2023 Conference Chairman Prof. Hota Ganga Rao made a very informative talk on Composites in Civil Engineering, FRP bridges built in USA, about Network of experts working on Composites, Corrosion and highlighted the potential use of composites as India has huge coastal line where composites can play a role on structural applications and corrosion prevention and he emphasised the importance of Standards.
Describing his experience, he said that under CICI, USA (Center for the Integration of Composites into Infrastructures), 4 of the universities have been working together for the last 14 years in developing the different composites with an idea to enhance with service life and reduce cost at the same time to bring some degree of value addedness. He said that his team-built lattice structures about 100 plus feet using composites for about one tenth of the price in comparison with conventional steel lattice systems, as an example.
He said that natural fibres which are abundance in developing countries like China and India and these countries have less amount of landfills and the volume of the discarded material is increasing. His team has found certain techniques to recycle and how to bring value addedness in terms of developing a set of products that are again dealing with the civil infrastructure.
He highlighted the use of FRP reinforcing bar, also called rebar which is non-corrosive and non-conductive and concrete can be made utilizing the rebar and that is not going to get any kind of corrosive effect in the concrete structure. He said that he has been doing this work for 38 years, on these rebars and has built a number of bridges and building using these rebars.
Mr. KumarpalRawji, Chairman, FRP Institute, in his address highlighted the potential and opportunities for the composites in India in near future.
"JEC and FRP Institute have been in active talk to take the partnership to the next level to hold joint programs for the benefit of both the association members in the future. This year we have a new partnership with the Indian Technical Textile Association (ITTA) and this is the first year of our association and we look forward to build on this association in the future".
He mentioned that the areas like Renewable energy, defence sector and Electric vehicles playing a pivot role in the growth of the composite industry in India.
India's per capita consumption stands at 0.37 kg compared to that of USA with the highest composite consumption (11.5 kg) per Capita and hence offers the Highest widespread Opportunities in terms of Composite Consumption Per Capita.
This instils a sense of confidence to the end users to switch applications from traditional materials to composites and gain its advantages. With standard specifications in place the manufacturers will also be able to confidently market their products. This will also help SME's and new startups to make standard and quality products. With this, Internationally, Indian products will be widely accepted opening greater export opportunities. Once the standards are in place, more testing labs shall start offering testing facilities which in turn will make testing more accessible to the manufacturer thereby building confidence in the end user. It would be incomplete without remembering our Late Shri Pradipbhai Thakkar and his contribution to FRP Institute and ICERP Show. We all missed him during organizing the ICERP. We thank him for giving us the guidance for all these years which gave us the direction and confidence to organize the event".
Ms Piya Thakkar in her welcome speech said that post pandemic, economic growth in India is likely to top the list of the most attractive markets in the world. The penetration of composite materials is still significantly low in most of the end-use industries in India as compared to the other matured markets, such as the USA and Germany. This growth is possible and can be accelerated if we are sensitive to the quality of composites we manufacture. Excerpt from her talk is given below:
"In India now is the time to develop newer applications in composites backed with standard specifications approved by the Bureau of Indian standards and government agencies.
As the number of applications where composites are replacing other conventional materials increases, there arises a need for development of approval standards and regulation that projects & organizations can adhere to. Our industry needs to play a vital role in realising our Honourable Prime Minister's Noble Vision of 'Atmanirbhar Bharat'. We must work hard to improve our technological capabilities so that we are able to indigenize all the different parts of the composites value chain to internally provide for the country's growth needs. We are yet to have our first carbon fibre manufacturing facility and having that will be crucial to reducing our dependance on sourcing critical raw materials for defence from other countries. Similar to carbon fibre there are many other upsteam chemicals which if manufactured in India can reduce our dependance on imports and global supply shortages.
For a sustained growth in composite industry, we shall have to invest time in building product standards.
We have large Investments being made in Composite Industry by Multinational Companies and hence look forward to their contribution in making a difference in getting our Industry more organized and putting the industry at par with international players.
ICERP 2023 Exhibition: The exhibition was inaugurated by the Chief Guest Dr.G.Satheesh Reddy and he visited various stalls in the exhibition and briefly interacted with the exhibitors and with the media. He explained to the media the various advantages of composites and its applications in various sectors. There were totally 124 exhibitors participated in the event.
Exhibition Highlights: Indian and Foreign exhibitors put up a great display of their brands with booths of global standards. The visitors were highly impressed by the show as they were able to see the variety of materials, tools and products in the event as per their feedback received. As per feedback received from visitors of the event they were able to identify various suppliers to meet their needs in the composites value chain.
The event is represented mainly by Indian Companies which is about 74% of the total participants. There is substantial number of foreign companies participated through their Indian partners. However, there is relatively lesser number of direct participations by foreign companies and this should be one of the key focus for the future events.
In the ICERP 2023 exhibition, the number of companies in the advanced composites areas like carbon fibre composites showed an upward trend compared to previous events.
| | |
| --- | --- |
| S.No | ICERP 2023 EXHIBITORS LIST |
| 1 | ADEX COMPOSITES |
| 2 | AIRTECH COMPOSITE MATERIALS INDIA PVT LTD. |
| 3 | ALTAIR |
| 4 | AMBER ORGANICS |
| 5 | AMBROSIA CHEMICALS |
| 6 | AOC RESINS |
| 7 | AR PLASTIK LLC |
| 8 | ARIHANT METALLICA |
| 9 | ARMACELL |
| 10 | ARVIND PD COMPOSITES |
| 11 | ASHIRVAD INDUSTRIES |
| 12 | ASTERIX PAINTS |
| 13 | ASTERIX REINFORCED LIMITED |
| 14 | ATUL LTD. |
| 15 | AYPOLS POLYMERS PVT LTD |
| 16 | AZISTA INDUSTRIES PRIVATE LIMITED |
| 17 | BHUMIJA COLOURANTS PVT LTD |
| 18 | BODO MOELLER CHEMIE INDIA PVT LTD |
| 19 | BYK INDIA PVT LTD |
| 20 | CARBON LIGHT |
| 21 | CARBORUNDUM UNIVERSAL LIMITED |
| 22 | CHEMELYNE SPPECIALITIES |
| 23 | CHEM TREND |
| 24 | CHEMICAL RELEASE CO. LTD. |
| 25 | CNC TECHNICS PVT LTD |
| 26 | COLOURTECH PRODUCTS PVT LTD |
| 27 | COMPOSITES ASSOCIATION |
| 28 | CREATIVE FIBRE PRODUCTS PVT LTD |
| 29 | CREEDX COMPOSITES PVT.LTD |
| 30 | CREST SPECIALITY RESINS |
| 31 | DIAB CORE MATERIALS PVT LTD |
| 32 | ECMAS |
| 33 | EPSILON COMPOSITE SOLUTIONS (ECS) |
| 34 | ES MANUFACTURING INC. |
| 35 | ESSEN INTERNATIONAL |
| 36 | FABHEADS AUTOMATION PVT. LTD. |
| 37 | FIBRE GLASS INSULATION |
| 38 | FINE ORGANIC INDUSTRIES Ltd |
| 39 | FORTIUS MARKETING |
| 40 | FRP Institute |
| 41 | FRP MATERIALS |
| 42 | GOA GLASS FIBRE LTD. – 3B – the Fibreglass Company |
| 43 | GRACO INDIA PVT. LTD. |
| 44 | HI TECH FIBRE |
| 45 | HINDALCO |
| 46 | HINDUSTHAN SPECIALITY CHEMICALS LIMITED |
| 47 | HUNTSMAN INDIA – ADVANCED MATERIALS |
| 48 | INCREDIBLE MACHINES |
| 49 | INDIAN TECHNICAL TEXTILE INDUSTRY ASSOCIATION |
| 50 | INDOCOOL COMPOSITES PVT LTD |
| 51 | INDUTCH COMPOSITES |
| 52 | INEOS COMPOSITES |
| 53 | INNOVATIVE RESINS PVT. LTD. |
| 54 | JAY CHEM MARKETING |
| 55 | JD TECHFAB PVT LTD |
| 56 | JEC, FRANCE |
| 57 | JNK COMPOSITES – DIRECTORY |
| 58 | JRF POLYMERS |
| 59 | JUSHI INDIA FIBERGLASS PRIVATE LIMITED |
| 60 | KINECO LIMITED |
| 61 | LINK COMPOSITES |
| 62 | LOTUS INFRAA |
| 63 | MADHURI ENGINEERING WORKS |
| 64 | MAHEK ENTERPRISES |
| 65 | MARBOCOTE LTD. |
| 66 | MARKTECH COMPOSITES PVT. LTD. |
| 67 | MAXWAX MULTI PRODUCTS |
| 68 | MCLUBE ASIA PVT LTD |
| 69 | MECHEMCO |
| 70 | METRO GROUP |
| 71 | MONTEX GLASS FIBRE INDUSTRIES PVT LTD |
| 72 | MOREX INDUSTRIES PVT LTD |
| 73 | MVP INDIA |
| 74 | NAND COMPOSITES PVT LTD |
| 75 | NETWORK POLYMERS |
| 76 | NICKUNJ EXIMP ENTP P LTD |
| 77 | NIKNAM CHEMICALS |
| 78 | NIRAV CHEMICAL INDUSTRIES |
| 79 | ORION RACING INDIA |
| 80 | ORSON RESINS AND COATINGSPVT LTD |
| 81 | PDH COMPOSITES PRIVATE LIMITED |
| 82 | PIYU CHEM IMPEX PVT LTD |
| 83 | PLEXCONCIL |
| 84 | POLY CHEM RESINS INTERNATIONAL INDUSTRIES |
| 85 | PRAMOD FIBRE PLAST PVT. LTD |
| 86 | PRASHANT THERMO PLASTICS PVT LTD |
| 87 | PUMAX CHEMICALS |
| 88 | PURVAJ ENGINEERS |
| 89 | RG FIBROTECH |
| 90 | REICHHOLD INDIA PVT. LTD. (POLYNT GROUP) |
| 91 | RENUKA ENTERPRISES |
| 92 | RESOLTECH |
| 93 | REVEX GROUP |
| 94 | ROCKMAN ADVANCED COMPOSITES |
| 95 | ROYAL THERMOSET PVT. LTD. |
| 96 | SAI KRUBA POLYMERS |
| 97 | SAUMIT INTERGLOBE PVT. LTD. |
| 98 | SCOTT BADER PVT LTD |
| 99 | SEDAXIS ADVANCED MATERIALS PVT LTD |
| 100 | SHUBHADA POLYMERS PRODUCTS PVT LTD |
| 101 | SKAPS INDUSTRIES |
| 102 | SPHERETEX GMBH |
| 103 | SHTENOS COMPOSITES |
| 104 | STYRO BOND |
| 105 | SUNDARAM BRAKE LININGS LTD |
| 106 | SVS HYDRAULICS PVT LTD |
| 107 | SWORL. Inc. |
| 108 | TAIZHOU HUANGYAN SHUANGSHENG PLASTIC MOULD CO., LTD |
| 109 | TARTLER INDIA PVT LTD |
| 110 | TATA STEEL NEW MATERIALS DIVISION |
| 111 | TECHNICAL FIBRE PRODUCTS LTD |
| 112 | TECMA |
| 113 | THE BHOR CHEMICALS AND PLASTICS PVT. LTD. |
| 114 | THERMWOOD INDIA |
| 115 | TORAY INTERNATIONAL INDIA PVT LTD |
| 116 | TRADE ASIA |
| 117 | TRIOVISION COMPOSITE TECHNOLOGIES PVT. LTD. |
| 118 | TRIOBOTICS AUTOMATION SOLUTIONS PVT. LTD. |
| 119 | TWIN ENGINEERS PVT LTD |
| 120 | UNIVERSAL TEXTILE |
| 121 | URJA PRODUCTS |
| 122 | VACMOBILES.COM LIMITED |
| 123 | WESTIN RESINS AND POLYMERS PVT LTD |
| 124 | WYNDERZ |
ICERP 2023 Conference Programme: This year conference was much better than previous edition of ICERP event and some of the leading global experts on composites, presented papers in the conference. Some of the key focus areas in the conference was composites for Civil engineering/Infrastructure especially bridges, road infrastructure etc. Thanks to efforts by Prof Hota Ganga Rao and Prof Srinivas Iyer for their initiatives and bringing in some of the renowned global experts on Composites and they shared their expertise including few fundamental aspects and also cost effective industrial application case studies.
There was special session on Composites for Building and Construction and composites for Civil Engineering Applications. Mr. S.Ramchandran, Former Chairman of FRP Institute and Mr. Suhas Kolhatkar, conference committee members, played a crucial role in bringing in some of the leading Indian Composites experts to share their views in the ICERP 2023 conference programme. Apart from the above areas, other topics such as Fire resistance additives for Composites, Design, analysis and Simulation, Process technologies such as LRTM, Moudling compounds were presented during the conference.
ICERP 2023 CONFERENCE PROGRAMME
Event Date 18th to 20th Jan 2022- (Exhibition) Bombay Exhibition Centre, MUMBAI
Conference Chairman: Prof Hota Ganga Rao,
Conference Advisor: Prof. Srinivasa L Iyer
Seriel No
Name of the presenter
Organaisation
Topic
1
Mr. Pawan Tyagi
Reliance Industries Limited,Reliance Composites Solutions, Vadodara, India.
Keynote Address: My learnings and experience with Composites Industry
2
Mr. Suman Kumar Bal
Joint President and Chief Sales & Marketing Officer, Hindalco Chemicals
Flame Retardant Solutions for Composites
3
Dr. Andreas Horbach
AOC, The Netherlands
Composites in Chemical Sector
4
Mr. S.Ramachandran
Director, Jushi India Fiberglass India Pvt Ltd
An Overview of opportunities for Composites Applications in India in the Road Infrastructure
5
J. R. Virga, P. Vijay, HotaGangaRao and Tom Wright
West Virginia University & BRP Inc
Static and Dynamic Responses of FRP Composite pedestrian Bridges
6
Dr. Rajan Sen
University of South Florida
Reflections on FRP Durability Testing
7
Mr Praveen Majjigapu&HotaGangaRao
HNTB Inc & West Virginia University
Creating Resilient RC Beam-Column Joints using Engineered Composites
8
Dr. Vipin Kumar
University of Washington
Reflections on 35-Plus Years of Research on Microcellular Foams: Milestones, Innovations, Commercialization
9
Dr.Debdatta Ratna
NMRL, Ambernath, Maharashtra
Composites In Marine Applications
10
Mr. Shaohua Zeng
Anhui University
Light weight applications of Fibre-reinforced composites in Automobile
11
Mr. SusantaPramanik
Crest Speciality Resins,
FRP Composites and Fire-retardant Properties
12
Ms. Neha Junare., Ph.D
National Forensic Science University, Gandhinagar, Gujarat.
Use of 3-Dimensional Composite Fabrics for Ballistic Protection
13
Mr. Sushil Mane
Senior Director, Technology & Customer Support, Altair India
Analysis and Simulation Software Applications for Composites
14
Mr. Suhas Kolhatkar
Composite Designs & Technology (Design Associates of BFG International Ltd. – Global)
Landmark Global FRP Composites in Architecture & Infrastructure
15
Mr. Atul Bhobe,
Managing Director, TPFEPL,
Hybrid Composite Beams (HCB)-Innovative Composite Bridge beams for Highway and Rail bridges
16
Mr.Mohammed Zacharia,
LCA Consultant, Ardhi Digital Consulting, USA.
Carbon Efficient Infrastructure with Composites
17
Mr. Gaurav Namdhar
OcSiAl India
Graphene Nanotubes in Composites
18
Mr. Charles TUR & Mr. Enrico Baggio
Mr. Charles TUR – MVP USA – Closed Mold Specialist Mr. Enrico Baggio – DOW Italia – Senior TS & D Specialist
Fast Flow LRTM Enabled by Polyurethanes
19
Mr. Shubhada
Menzolit Compounding Solutions
Opportunities in SMC & BMC
20
Dr. R.N. Krishna
KC Contech, Chennai
FRP Reinforced Concrete-Structural Design, Testing and Applications
21
Dr. Rakesh Gupta
West Virginia University
Thermo-Mechanical Response of GFRP Composites under High Temperature (up to 3 minutes Exposure)
22
Dr. Rajan Sen
University of South Florida
Effectiveness of Field Repair of Piles Using FRP
23
Dr V. J. Gopu and HotaGangaRao
University of Louisiana & West Virginia University
Response of FRP wraps for Timber Piles
ICERP-JEC Innovation Award Programme: Innovation is one of the key aspects for growth of any industry and it gives value to the customers and the composites industry is no exception for that. With range of materials to select, and the options to adopt various manufacturing technologies based on need and requirements, there is huge scope for innovations in composites. The aim of the innovation award is to recognise the talent and give them greater visibility for the innovations carried out in India in the field of composites not only in the ICERP platform by also internationally through our International partner JEC, Group , France.
In the ICERP 2023, there were nine different innovations were awarded in the ICERP-JEC Innovation Award programme and the list is given below.
ICERP-JEC Innovation Award Programme:
| | |
| --- | --- |
| S.NO. | ICERP – JEC INNOVATION AWARD WINNERS 2023 |
| | CATEGORY: PROCESS MACHINERY/EQUIPMENTS WINNER:NATIONAL AEROSPACE LABORATORIES Indigenous Design & Development of Prepreg Tape Winding machine with capable of varied Tape Width |
| | CATEGORY: Composites for Defence WINNER: BHOR CHEMICALS & PASTICS PVT LTD Development of Prepregs for stealth Applications |
| | CATEGORY: Process Machinery & Automation WINNER: FABHEADS AUTOMATION PVT LTD Developed a Machine – A patented Adaptive Tow Placement Technology to Integrate continuous carbon fibre into 3D Printing Process |
| | CATEGORY: Composites for Transportation Applications WINNER:APPL Global INFOTECH Development of Light Weight Composite product for Automotive / Truck applications, Front Underrun Protective Devices (FUPD) |
| | CATEGORY: Natural fibre-based Composites WINNER: BHOR CHEMICALS & PASTICS PVT LTD Jute fiber based high performance epoxy hotmelt prepreg system |
| | CATEGORY: Composites for Infrastructure Applications WINNER: TRIOVISION COMPOSITE TECHNOLOGIES PVT LTD Composite Application in Infrastructure Project (Police Traffic Booth) |
| | CATEGORY: Composites for Medical Applications WINNER: CARBON LIGHT Development and manufacturing of carbon fiber composites orthopedic traction device along with sacral rest. |
| | CATEGORY: Composites for Telecommunications WINNER: INDORE COMPOSITE PVT LTD Low Bend FRP Rod Consist of Glass Fibre Roving Impregnated with Proprietary Radiation Curable resin system & produced using high speed Pultrusion Technique |
| | CATEGORY: PROCESS MACHINERY/EQUIPMENTS WINNER:TWIN ENGINEERS PVT LTD Developed the Resin Infusion Machine with Online resin (Epoxy & Polyester) Degasser having the online Degassing capacity of 40LPM |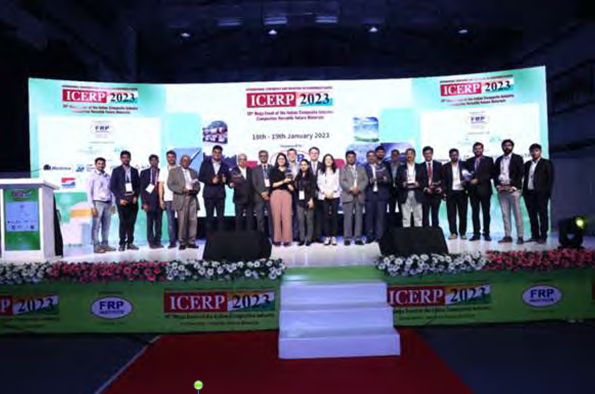 Networking Dinner programme: The programme was organized for the Indian Composites professionals to interact with each other and get to know their business interest and the area of business and also to get introduce with the new entrants of the industry.
ICERP 2023 Exhibitors Directory and Souvenir: The exhibitors directory and souvenir were released during the event by the Chief guest which had messages from the Chief Guest and industry members, list of exhibitors, conference programme details and advertisements of various companies. It served as a guide for visitors to quick identification of the suppliers and the various topics that are covered in the conference programme.
Product Display: There were more than 50 different composites products were showcased in the Product Showcase Gallery area. Some of the products that attracted much attention were Electric Speed boats and carbon fibre components. FRP products being manufactured by the exhibitors and their customers were also showcased through LCD screens. The general feedback from the visitors was it was very useful and it was a good opportunity get a feel of various composites products at one place.
Process Display: In the ICERP 2023 event, the Light Resin Transfer Moulding (LRTM) process demonstrations was on done by MVP in all three days during the event and it attracted large number of visitors. There were suggestions received from the visitors that these kind of process demonstrations can be increased and various other processes can also be covered.
Visitor data:
One of the highlights of the event is the higher turnout of business visitors for the event and in term of number of visitors is almost similar to the previous event in spite of last minute COVID-19 scare. From the visitor data we understand that the main purpose of the visit is to source Raw materials, Composites Product and Machinery and additives, core materials etc, however, we also had range of visitors to source their requirement spread across the composites value chain.
Technical Sales Presentation: This platform was created for the companies to give update to their customers and end-users on the latest advancements they have made. We find that it needs lots of publicity and marketing effort to reach out to the visitors and there is huge scope for effectively utilizing the programme in the event in future.
Supporters: One of the highlights of the ICERP 2023 event is that we had 19 different companies that have come forward to support the event. Never in the past, we had such a large number ofspportes for the ICERP event. Following are our supporters of ICERP 2023
Link Composites Pvt Ltd, Mechemco Industries, Airtech Composite Materials India Pvt Ltd, Innovative Resins Pvt Ltd, Asterix Reinforced Limited, Jushi India FiberGlass Pvt Ltd, Hindalco Industries Ltd, Niknam Chemicals Pvt Ltd, Altair Engineering India Pvt Ltd, Revex Plasticizers Pvt Ltd, Orson Resins and Coatings Pvt Ltd, Alpha Chemie, SthenosComposites,Crest Speciality Resins Pvt Ltd, Rawji Exports, Ercon Composites, Magnus Composites Synergies Pvt Ltd, Carbon Light Pvt Ltd, Sagar Polymers.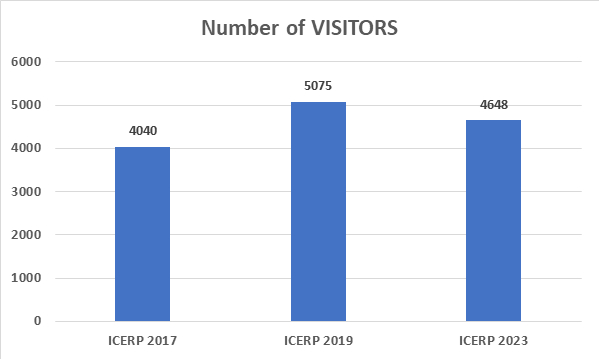 Concluding Remark:
We invite your suggestions regarding the initiatives and supports needed from the Govt of India and based on the feedback received from members, we have listed few of them as below:
1) Education on Composites:
2) Training and Human Resource Development
3) Composites Exports
4) Standards and Specifications
5) Composites Industry Collaborations: Techno-logical and Business Co-operations
6) Business Meetings
7) Industry -Academia-Govt Organizations Co-operations within India
8) Research and Developments on Composites and New and Innovative Product Developments
9) Innovation Centres and Institutions on Compo-sites and Specific Sectors
10) Composites Industry Clusters
11) Testing Centres
12) Technical Textiles and indigenization of machi-nery for Technical textiles
13) Health, Safety, Working Environment in the Indian Composites Industry
14) Mechanization, Automation, Robotics
15) Design, Analysis, Simulation tools, Software adoptions
16) Advanced Manufacturing Technologies including 3D Printing (Additive Manufacturing), Automated Fibre laying.
17) Recycling of Composites including Reusing, Waste Reduction during Manufacturing
18) Non-Destructive Testing (NDT) of Composites
19) Sector Specific issues- For example Wind Energy, FRP pipes etc
20) Composites Export Promotion Council
21) Start up Eco System and Funding opportunities.
22) Committee of Technical Experts and Consultants on Composites
23) International Co-operation with Composites Assoc-iations aboard and Educational Research Centres and Institutions in the field of Composites.
24) Unexplored areas in Composites by Indian Industry
Acknowledgement: On behalf of FRP Institute, we take this opportunity to thank all the exhibitors, speakers, delegates, visitors and all the service providers of the ICERP 2023 event for their support and co-operation. We also gratefully acknowledge the support received from all the supporting organizations including national and international partners.
We thank all the ICERP 2023 organizing committee members and Governing Council Members: Mr. KumarpalRawji- Chairman, Mr. K. Narayana Reddy-Immediate Past Chairman, Mr. Vijay Krishna-Vice Chairman, Ms. Piya Thakkar- Vice Chairman, and Chairperson, ICERP 2023, Mr. O.Vasudeva Reddy- Honorary Treasurer, Prof S. C. Lakkad- Past Chairman,
Governing Council Members:
Mr. Satyen Vora, Prof. M. A.Shenoy, Mr. Rajan Baveja, Mr. Sunil Saxena, Mr. B. S. Sambi Reddy, Mr. Ramanand Gupta, Mr. Mihir Merchant, Mr. Shekhar Sardessai, Dr. Srinivasa Iyer, Mr. R. Ramesh, Mr. Dilip Dedhia, Mr. Suresh Babu, Mr. S. Ramachandran, Mr. Narayan Prasad Goenka, Mr. Nitin Narayan Goenka, Mr. B.Narender Reddy, Mr. K. Srinivasa Rao, Mr. Miyyapuram Ramesh, Mr. Hemant Bhide, Mr. M. Vishwanath, Mr. J. K. Trivedi, Mr. K. Gajendra,
Mr. Gordon Rodricks- General Manager, Dr. A. Selvam- Executive Secretary.
Organizing Committee Members: Mr. Sushil Shah, Dr Chaitanya Shah, Mr. Aditya Thakkar, Mr. S.Prabakaran and Mr. Siva Perumal and the esteemed Jury Members of Innovation Award Committee
Our heartfelt thanks to Perficient Events Pvt Ltd who managed the ICERP 2023 event very efficiently and we thank the entire team for efficient co-ordination with all the vendors and we thank members of FRP Institute for their support and guidance for making the event a success.