Record 75 percent of defense capital procurement budget earmarked for domestic industry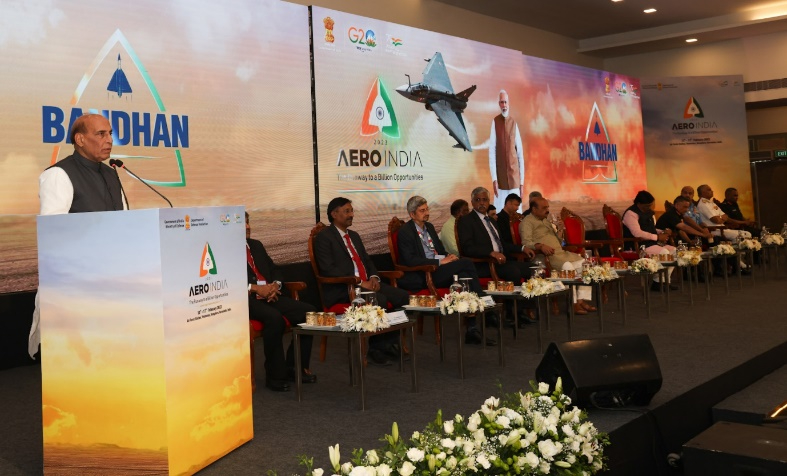 Record 75 percent (approx. Rs one lakh crore) of the defense capital procurement budget has been earmarked for the domestic industry in Financial Year (FY) 2023-24, up from 68 percent in 2022-23. This was announced by Raksha Mantri Shri Rajnath Singh during the Bandhan ceremony of 14th Aero India in Bengaluru on February 15, 2023. In FY 2023-24, the Ministry of Defence (MoD) has been allocated a total Budget of Rs 5.94 lakh crore, which is 13.18 percent of the total budget (Rs 45.03 lakh crore). Capital outlay pertaining to modernization and infrastructure development has been increased to Rs 1.63 lakh crore.
Shri Rajnath Singh termed the decision as an unprecedented step taken by the Government at the outset of 'Amrit Kaal' to further strengthen the defense sector and minimize import dependency. "If you take one step, the government promises to take ten steps forward. You spoke of land to run on the path of development. We are providing you with the full sky. Earmarking three-fourths of the capital procurement budget for the local industry is a step in that direction," he said.
The Raksha Mantri exuded confidence that with this step, the Indian industry will come forward with more enthusiasm and contribute to making the defense sector more powerful and prosperous. He was of the view that a strong & self-reliant defense industry not only strengthens the security system of the country but also bolsters the economy. He highlighted that, in the last few years, a domestic industry-friendly environment has been created in the country providing a runway for the local companies to grow and ensure holistic development of the nation while catering to the security needs of the friendly countries, in line with Prime Minister Shri Narendra Modi's vision of 'Make in India, Make for the World'.
The Bandhan ceremony also witnessed the forging of 266 partnerships including 201 MoUs, 53 major announcements, nine product launches, and three Transfers of Technology, worth around Rs 80,000 crore.
Major agreements
MoU between Hindustan Aeronautics Limited and Safran Helicopter Engines, France for Work Share for the formation of a Joint venture for the Design, Development, Manufacture, and lifetime support of Helicopter Engines.
MoU between Bharat Electronics Ltd and Aeronautical Development Agency on IWBC and Other LRUs for Advanced Medium Combat Aircraft (AMCA).
Co-operation between BSS Material Limited and Pegasus Engineering, an ADUSEA Inc. Division (USA) for Logistic Drones for the Indian Army towards Last Mile Delivery for forward troops deployed along the border areas with capability of operation in wind/gust conditions, rain/Snow, etc.
MoU between Gopalan Aerospace India Pvt. Ltd. and Omnipol, Czech Republic for manufacturing and assembling of 1st passenger aircraft (L 410 UVP-E20 version) by a private company in India.
MoU on the collaboration of Sagar Defence Engineering Private Limited (SDEPL) & Israel Aerospace Industries (IAI) for IDEX Challenge "Autonomous Weaponized boat Swarm" for Indian Navy.
MoU between Bharat Dynamics Limited and Bultexpro Ltd., Bulgaria for setting up the manufacturing facilities for 122mm GRAD BM ER and NONER rockets in India and fulfilling the requirements (including ToT).
MoU between GRSE and Rolls-Royce Solutions GmbH (MTU) for License production with localization of the MTU 16V4000M73L engine to support the indigenous content for the Next Generation Fast Attack Craft vessel for the Indian Navy.
BEML enters into License Agreement for the Transfer of Technology (ToT) with R&DEE and DRDO for the development and supply of TRAWL Assembly for T-72/T-90 Tanks.
ToT of Shakti EW System from DLRL DRDO to BEL Hyderabad Unit for all system units, Bill of Material, Test procedures, integration & offering methodology.
MoU between Hindustan Aeronautics Limited and Elta Systems Limited, Israel for cooperation on future Business in Maritime Patrol Radar (MPR) for Indian Platforms.