Powerful selective laser sintering (SLS) 3D printer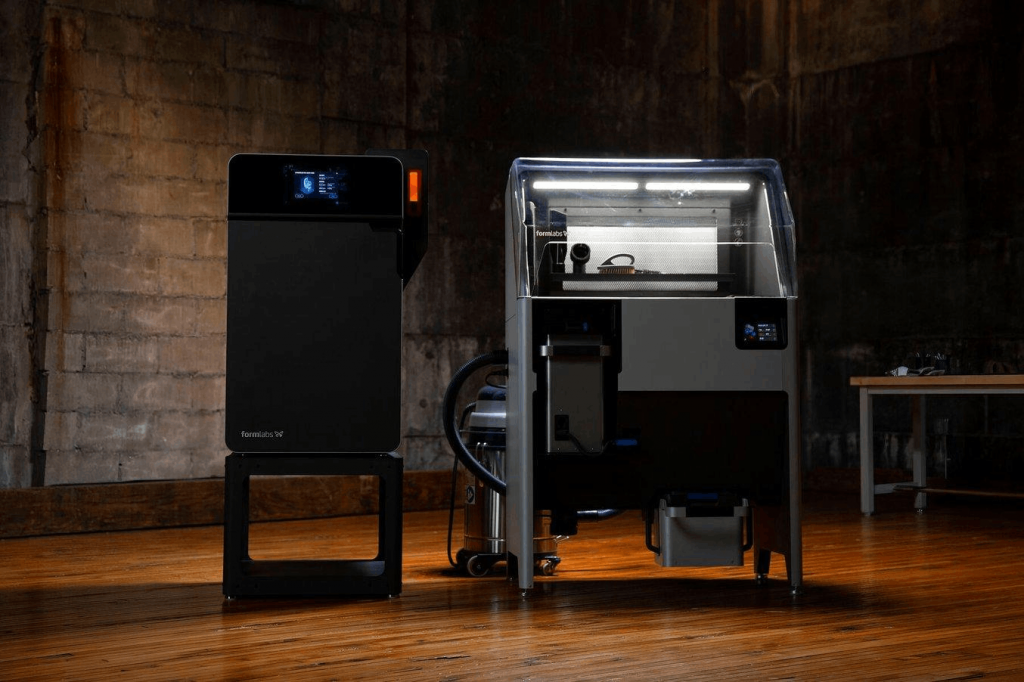 Formlabs, the leading 3D printing company, announced the Fuse 1+ 30W, its most powerful industrial selective laser sintering (SLS) 3D printer to date. Built off the success of the Fuse 1 SLS 3D printer, the Fuse 1+ 30W integrates upgraded components — including a much more powerful laser — to enable new high-performance materials and deliver superior throughput so customers can produce parts in hands up to 2x faster. With an upgraded galvanometer system, the Fuse 1+ 30W boasts industry leading print speeds enabled by a powerful laser and rapid scanning speed of up to 12.5 meters per second.
In addition to the Fuse 1+ 30W, the company released Nylon 11 CF Powder, the latest addition to the Formlabs SLS materials library designed for the Fuse 1+ 30W for end-use applications. This nylon-based, carbon fiber reinforced powder will enable users to produce strong, yet lightweight parts in-house.
"Since launching the Fuse 1 in January 2021, Formlabs has single handedly expanded the SLS market, accounting for more than 50 percent of SLS printer sales in that time," said Max Lobovsky, CEO and co-founder of Formlabs. "With the Fuse 1+ 30W, we're pushing SLS 3D printing to new heights — delivering truly rapid, high-throughput SLS printing at a price point that companies can afford. In total, Formlabs has sold over 100,000 professional SLA printers — more than any other 3D printer manufacturer — and the Fuse 1+ 30W sets us up to similarly dominate the SLS market."
Serving a variety of industries from engineering and manufacturing to dental and healthcare, Formlabs is the professional 3D printer of choice for engineers, designers, and healthcare professionals around the globe, states the release. The Fuse 1+ 30W packs industrial power at an affordable price. Designed for reliability and an efficient end-to-end workflow, it integrates new components to improve throughput and material performance while operating as a compact, contained ecosystem. From print setup to powder recovery and mixing, the Fuse Series hardware and Formlabs software maximize efficiency at every step of the process. The result is a truly rapid SLS printer that produces high-performance parts in hours, not days.
To support the Fuse 1+ 30W print capabilities, Formlabs' newest material, Nylon 11 CF Powder, can produce lightweight rigid parts that can withstand repeated impact, making it ideal for replacement and spare alternatives to metal parts, high-impact equipment and functional composite prototypes. With Nylon 11 CF Powder, Formlabs customers will get the best of nylon and carbon fiber with a highly stable, high-performance material that is perfect for end-use applications that require both high stiffness and superior strength.
Fuse 1+ 30W features include:
High throughput and fast turnaround with 30W laser printing at scan speeds up to 12.5 meters per second, with parts delivered in-house under 24 hours;
New, industrial-grade materials enabled by active powder handling system;
Printed material properties competitive with industry leaders thanks to a nitrogen supply option;
Low-waste printing due to high packing density and powder recyclability, enabling low cost per part and a fast ROI.
Nylon 11 CF Powder features include:
Carbon fiber-filled;
High stiffness and dimensional stability;
High degree of vibration / impact resistance with a high strength-to-weight ratio;
Thermally stable