Ministry of Defence signs Rs 1,700 crore contract with BrahMos Aerospace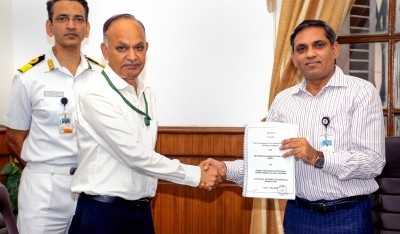 Ministry of Defence, on March 30, 2023, inked a contract with BrahMos Aerospace Private Limited (BAPL) for procurement of Next Generation Maritime Mobile Coastal Batteries (Long range) (NGMMCB -LR) and BrahMos Missiles at an approximate cost of over Rs 1,700 crore under Buy (Indian) Category. The delivery of NGMMCBs is scheduled to commence from 2027. These systems will be equipped with supersonic BrahMos Missiles and will significantly enhance multi-directional maritime strike capability of Indian Navy.
The BAPL is a Joint Venture between India and Russia making crucial contribution to augment the new generation Surface-to-Surface missile with enhanced ranges. This contract is going to give further boost to indigenous production of critical weapon system and ammunition with active participation of indigenous industries. This project will generate an employment of more than 90,000 man-days over a period of four years. With the majority of the equipment and sub-system sourced from indigenous manufacturers, these systems will be a proud flag bearer of 'Aatmanirbhar Bharat'.