India signs Artemis Accord to join the US lead space programme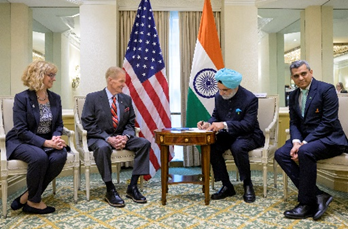 During a ceremony in Washington on June 21, India signed the Artemis Accords, became the 27th country to join the US led Artemis programme for exploration of moon and other celestial objects. NASA Administrator Bill Nelson participated in the signing ceremony for the agency and Taranjit Singh Sandhu, India's ambassador to the United States, signed on behalf of India.
The Artemis Accord was signed on October 13, 2020 by eight Founder Nations, – Australia, Canada, Italy, Japan, Luxembourg, UAE, UK and the United States. Its members include the traditional US allies like Japan, France, New Zealand, UK, Canada, South Korea, Australia and Spain while African nations like Rwanda, Nigeria etc are the new partners. Out of 22 European nations only eight (Luxembourg, Italy, UK, Romania, Poland, France, Czech Republic and Spain) have signed the accord
NASA, in coordination with the U.S. Department of State, established the Artemis Accords in 2020 together with seven other founding member nations. The Artemis Accords reinforce and implement key obligations in the 1967 Outer Space Treaty. They also reinforce the commitment by the United States and signatory nations to the Registration Convention, the Rescue and Return Agreement, as well as best practices and norms of responsible behavior that NASA and its partners have supported, including the public release of scientific data.