In-resin graphene additive for composites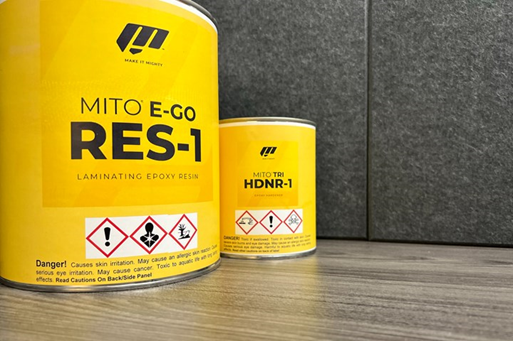 Specialty chemical company, Mito Material Solutions (Indianapolis, Ind., U.S.) announced its first ready-to-pour graphene product with the company's verified functionalized graphene status, awarded by the Graphene Council (New Bern, N.C., U.S.).

In partnership with industrial coatings manufacturer Forrest Technical Coatings (Eugene, Ore., U.S.), Mito has harnessed its patented, verified technology platform for the production of functionalized graphene into ready-to-pour hybrid additives with chemical and physical bonding points.
The first two available ready-to-pour products are Mito E-Go Res-1, a laminating epoxy resin, and Mito Tri-Hdnr-1, an epoxy hardener. The ready-made products may be used separately but their formulas are optimized to work together.
Current Mito client, Folsom Skis, first suggested Mito partner with sports industry formulator Forrest Technical Coatings to make E-Go available in the resin to simplify adoption from a production perspective. E-Go is pre-mixed in an approximate 1-to-1000 ratio to Forrest's polymer with the goal of simplifying the complexity of process adoption.

According to Mito, its products give fiber-reinforced composites and thermoplastics lab-verified improvements in strength, durability, flexibility, functionality and sustainability. As E-Go is a verified functionalized graphene additive, customers have the assurance that E-Go has passed rigorous audits and third-party testing to ensure product consistency and quality at commercial scale.