Continuous Fibre 3D technology (CF3D) for composites manufacturing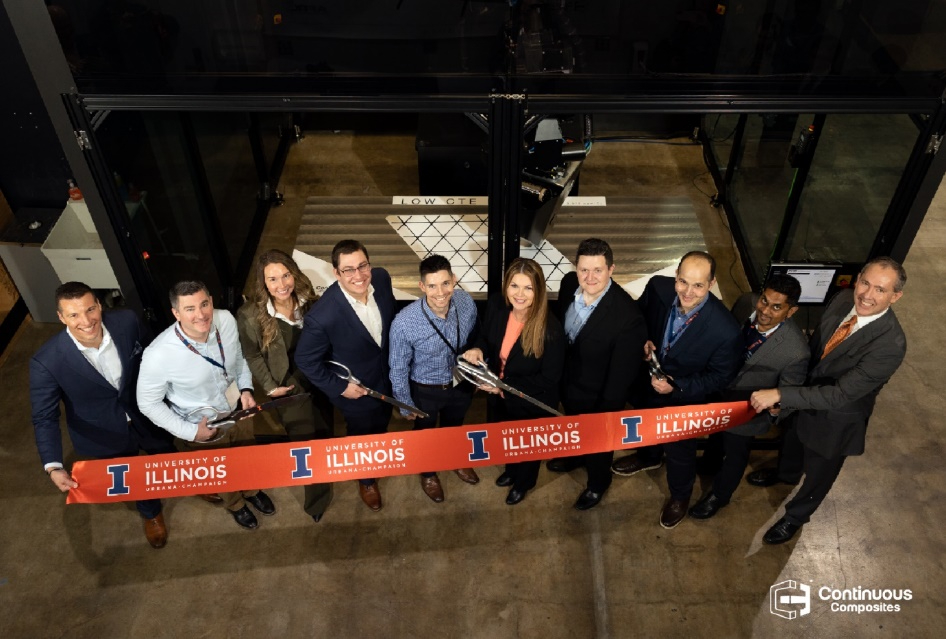 Continuous Composites Inc., a leading manufacturer of continuous carbon fibre printing solutions, recently unveiled their commercial Continuous Fiber 3D technology – CF3D Enterprise™ system at a ceremonial ribbon-cutting and technical symposium at the University of Illinois Urbana-Champaign, enabling them to take their strategic partnership to the next level in advancing the future of composites manufacturing using CF3D®.
The ribbon-cutting ceremony of the CF3D Enterprise™ system at the University of Illinois Urbana-Champaign's Department of Aerospace Engineering is a milestone event showcasing the power of collaboration and innovation. The technical symposium featured presentations from academic and industry experts, highlighting the potential of CF3D and the exciting opportunities for the future of manufacturing. Attendees were able to see first-hand the CF3D Enterprise™ system and gain a deeper understanding of its potential impact on their respective industries.
"The CF3D® technology has the potential to revolutionize the composites industry, and we are excited to take our partnership with Continuous Composites to the next level," said Dr. Jeffrey Baur, Founder Professor of Aerospace Engineering at the University of Illinois Urbana-Champaign. "The CF3D Enterprise™ machine is a platform ripe for innovation and will enable us to advance our research and education programs and create new opportunities for our students, faculty, and industry."
Dr. Jeffrey Baur has been a long-standing partner of Continuous Composites during his service at the United States Air Force Research Lab, conducting research and development in the field of composite materials and manufacturing. The purchase of the CF3D Enterprise™ machine marks a significant milestone in their partnership and paves the way for exciting new opportunities.
The CF3D Enterprise™ system is the result of a collaborative effort between Continuous Composites and its technology partners, including Arkema, Hexcel, Siemens, and Comau Robotics. These companies have each contributed their respective expertise and cutting-edge technology towards the development of the CF3D Enterprise™ machine, making it a reality.
Continuous Composites Inc., headquartered in Coeur d'Alene, Idaho, is disrupting manufacturing with its patented composites printing technology (Continuous Fiber 3D Printing – CF3D®). Founded in 2012, the company leads the 3D printing industry with the earliest and most comprehensive patent portfolio owning 100 U.S. Patents and 41 international patents. The CF3D® technology leverages advantages of continuous fiber composite materials and the 3D printing process to fabricate high-strength, lightweight parts on demand. CF3D® significantly reduces cost, lead times, labor, and other traditional constraints found in manufacturing while enabling design freedom.