Conference on green hydrogen explores the evolving innovation-driven solutions in the sector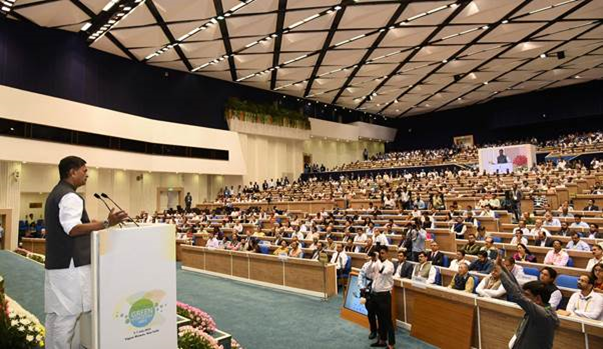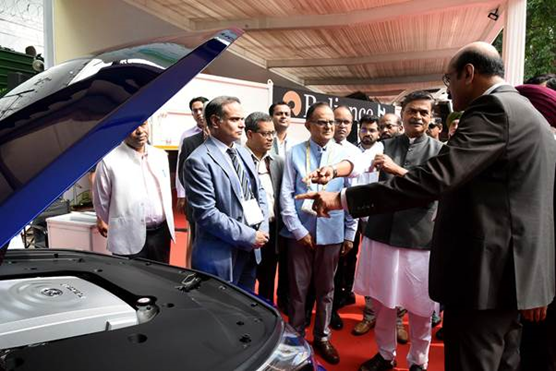 The three-day International Conference on Green Hydrogen (ICGH-2023), organized during 5th – 7th July 2023 at Vigyan Bhawan, New Delhi by the Government of India, was inaugurated, by the Union Minister for Power and New and Renewable Energy Shri R. K. Singh. The conference brought together stakeholders from India and across the world and discussed about establishing a Green Hydrogen ecosystem and fostering a systemic approach for meeting the global goals for decarbonization through Green Hydrogen. The global scientific, policy, academic and industrial leaders discussed recent advances and emerging technologies in the entire green hydrogen value chain. The conference will enable the sector stakeholders to explore the evolving green hydrogen landscape and innovation-driven solutions in the sector, thus strengthening the sustainability ecosystem of the sector.
Apart from domain-specific research interactions on hydrogen production, storage, distribution and downstream applications, the conference also had discussion on green financing, human resource upskilling and startup initiatives in this area. The conference will enable to share and learn from international best practices in the sector.
Various plenary talks, expert panel discussions and technical deliberations held at the conference will provide domestic and international participants from the industry and research communities an opportunity to dive deep into these national and global priorities, in line with the objectives embedded in India's National Green Hydrogen Mission, a Mission launched by the Government of India to help achieve India's target of Net Zero by the year 2070.
The Union Minister for Power and New & Renewable Energy Shri R. K. Singh in his address said that there is now a global consensus that we need to make a transition to renewable energy. The Power Minister informed that India has over-delivered on its Nationally Determined Contributions target, having achieved 40% of non-fossil electricity target in 2021, 9 years before the target of 2030. The Minister informed that 42% of power generation capacity of India today is based on non-fossil-fuels and that we will overachieve the target of 50% capacity from non-fossil fuels by 2030.
Shri Singh said that the government has launched an incentive scheme for electrolyser manufacturing and for production of green hydrogen. Noting that we are just at the cusp of the growth, the Minister said that India has a huge steel manufacturing capacity, a big mobility market, and in fertilizers and cement, thereby providing big opportunities for green steel, green mobility, green fertilizers and green cement.
The Union Minister of State for Petroleum & Natural Gas Shri Rameswar Teli said that as per the International Energy Agency, the world demand for hydrogen is expected to grow by 600% by the year 2050. He noted that India is one of the biggest consumers of green hydrogen in the world, with a demand of 6 million tons per annum. The Minister informed that the Ministry of Petroleum & Natural Gas, and oil and gas PSUs have taken various initiatives for promotion of green hydrogen. "The oil and gas PSUs are working towards achieving an annual production capacity of 230 kilo tonnes by the year 2024-25. In addition, these PSUs have set a production target of 7 lakh tonnes of green hydrogen per annum by the year 2030. Oil India Limited has started a pilot plant in Jorhat, Assam which produces 10 kg of green hydrogen per day."
The Minister added that Indian Oil Corporation Limited has entered into an agreement with Tata Motors, for development of hydrogen fuel cell in India. The Minister informed that buses run by hydrogen fuel cell have begun to run on trial basis in Gujarat.
Secretary, Ministry of New & Renewable Energy, Shri Bhupinder S Bhalla said "India's economy is growing rapidly, leading to increase in demand for energy and resources. Energy use has doubled in the last 20 years and is likely to grow by at least another 25% by 2030. India currently imports over 40% of its primary energy requirements, worth over USD 90 billion every year. Major sectors like mobility and industrial production are significantly dependent on imported fossil fuels. This necessitates a shift towards technologies that enable enhanced share of renewable sources in the energy mix, to enable us to progressively reduce the reliance on fossil fuels."
The Secretary said that under the National Green Hydrogen Mission, it has been targeted to build capabilities to produce at least 5 Million Metric Tonnes (MMT) of Green Hydrogen per annum by 2030. Shri Bhalla said that the Mission will support replacement of Hydrogen produced from fossil fuel sources with Green Hydrogen in ammonia production and petroleum refining, blending Green Hydrogen in City Gas Distribution systems, production of steel with Green Hydrogen, and use of Green Hydrogen-derived synthetic fuels (like Green Methanol) to replace fossil fuels in various sectors including mobility, shipping, and perhaps aviation.
The Secretary informed that the Mission will be implemented in a phased manner, focusing initially on deployment of Green Hydrogen in sectors that are already using hydrogen, and evolving an ecosystem for R&D, regulations and pilot projects. The latter phase of the Mission will build on these foundational activities and undertake Green Hydrogen initiatives in other sectors of the economy.
The Mission aims to develop and scale up Green Hydrogen production technology and make it affordable and widely accessible. With an initial budget of nearly Rs. 19,700 crore or USD 2.5 billion, the Mission includes stimulating demand, incentivizing supply through financial incentives, and facilitating key enablers such as research and development and common infrastructure.
The Secretary told the delegates that pilot projects in the sectors like steel, long-range heavy-duty mobility, energy storage and shipping, are proposed under the Mission. These pilot projects will help identify operational issues and gaps in terms of current technology readiness, regulations, implementation methodologies, infrastructure and supply chains, he added.
Presenting key findings of the draft report, the Principal Scientific Advisor said that the target set under National Hydrogen Mission, of producing at least 5 Million Metric Tonnes (MMT) of Green Hydrogen per annum by 2030, will require 60 GW – 100 GW electrolyser capacity and 125 GW renewable energy capacity. He informed that this will avert carbon dioxide emissions by 50 MMT per annum, create around 600,000 jobs and bring in 100 billion dollars of investment.
Prof. Sood said that the technology challenges identified in the draft report involve enhancement of efficiency, improving cost effectiveness, achieving scale, ensuring safety of green hydrogen technologies and integrating storage, transport and grid infrastructure. The R&D framework under the National Green Hydrogen Mission envisages a Strategic Hydrogen Innovation Partnership (SHIP), which would be a Public Private Partnership framework with dedicated R&D funds with inputs from industry and government. The plan would involve building strategic international partnerships and long-shot research in breakthrough areas as well. Efforts will be made to spur innovation to enhance affordability, efficiency, safety and reliability of systems. Prof. Sood underlined the need for encouraging innovative MSMEs and startups, Centres of Excellence and broad-based solutions for addressing various research areas.
Grand Challenge Projects, Mission Mode Projects, and Blue-Sky Projects
The Principal Scientific Adviser to the Government of India said that the draft roadmap envisages classification of projects into grand challenge projects, mission mode projects and blue sky projects. These three types of projects have been identified across three verticals, namely hydrogen production; storage and transportation; and end use applications. He said that after obtaining public comments and adoption of final R&D roadmap by the government, R&D project proposals will be called for and projects will be awarded based on the same. The Principal Scientific Adviser expressed that these efforts will help us make India a strong hydrogen economy in the coming years.
Director General, Council of Scientific and Industrial Research and Secretary, Department of Scientific & Industrial Research, Government of India, Dr. N. Kalaiselvi shared with the delegates that the most thought-provoking question facing us today is how and why we should handle hydrogen today.