Composites 'Thief Hatch' for reducing emissions from storage tanks into the environment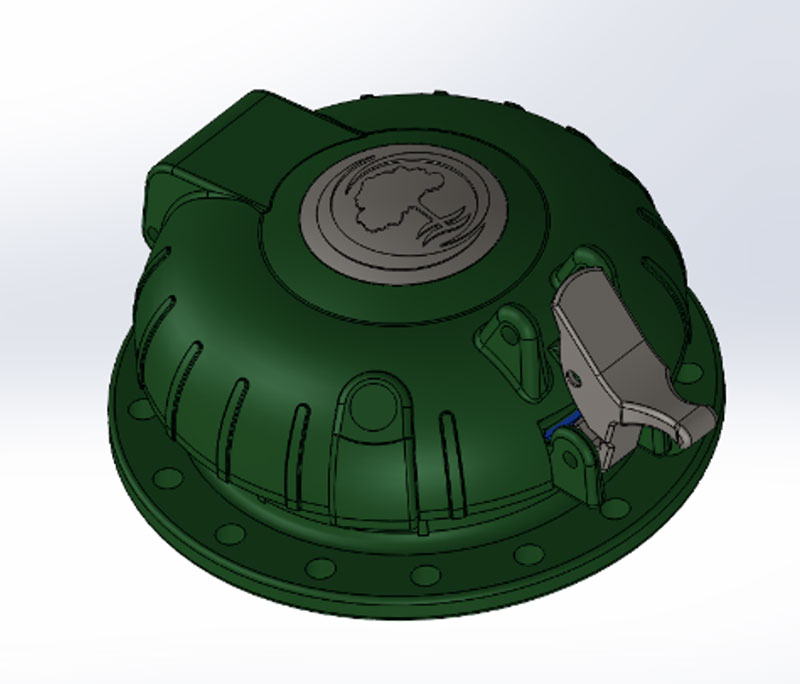 Enviromech™ Composites Thief Hatch
Made from a durable composite glass-reinforced polyetherimide material, Enviromech composite hatches deliver a significant step up in environmental performance and safety from existing technology.
Encino Environmental Services, LLC ("Encino"), a leader in emissions performance testing, leak detection, quantification, and analytics for the Energy sector and other industries, announced the introduction of its latest innovation, the new Enviromech™ composites thief hatch for produced liquid storage tanks (hydrocarbon and associated water). (Thief Hatch is a device used in the oilfield industry on the top of a stock tank which allows access for taking samples of the tank content, measuring level, and protect the tank from over pressure or vacuum)
Scott McCurdy, Encino Chief Executive Officer said, "Thief hatches located on storage tanks for crude oil, condensate, and produced water haven't changed much in decades. As Oil and Gas operators work to reduce their emissions footprints, tank batteries have emerged as one of the most, if not the most, significant source of well site emissions. The Enviromech thief hatch is a breakthrough product, ensuring a complete seal of the tank over the long-term and in varying weather conditions, reducing emissions and improving well site safety. Improved thief hatch performance is a very practical, immediate, and inexpensive way for companies to reduce their emissions footprint."
Oil and Gas storage tank thief hatches are traditionally made from carbon steel and/or aluminum which are vulnerable to the oxidative environments typically found in oil and produced water storage tanks that, over time, create micro fissures in gasket sealing surfaces. These micro fissures expand, creating voids which negatively impacts fit, finish, and ultimately emissions performance.
"The idea is simple." Said Joe Etheridge, Encino Chief Technical Officer, and primary inventor. "Pure metals (non-alloyed metals) will corrode. However, a combination of pure metals (dissimilar) in an oxidative environment will experience accelerated corrosion. By utilizing a homogeneous, non-reactive material, we materially limit the degradative impacts caused by oxidation; thus, maintaining superior asset integrity and emissions performance over time."
Enviromech composite thief hatches are made from durable glass-reinforced polyetherimide material, delivering a significant step up in environmental performance and safety from existing technology.
"The industry is focused on emissions measurement and mitigation; in many cases, deploying capital toward large projects such as carbon capture and sequestration (CCS) and/or biogenic carbon sinks." Said James Timmins, co-inventor, and Senior Applications Engineer at Encino. "If you consider that emissions from incumbent thief hatches make up a large portion of an E&P Facility's greenhouse gas (GHG) footprint, then it makes sense to leverage composite technology and provide operators with a highly durable, low-cost for high-impact solution to meeting both short and long-term climate performance goals."
Enviromech composites hatches are substantially less prone to warping or morphing due to extreme temperature changes and are significantly more resistant to oxidative and corrosive degradation resulting from long-term exposure to hydrocarbons and acrid water vapor.
This durability has been validated through accelerated pressure and corrosion testing that resulted in far superior performance against current products on the market.
As a result, Enviromech composites hatches provide greater integrity over the long-term, mitigating emissions from liquids storage tanks, arguably the most significant sources of volatile organic compounds (VOCs) and methane emissions on a well site and/or facility. Enviromech hatches have been field tested across multiple basins and operating environments over the last year.