Aircraft manufacturer finds thermoplastic composites highly adaptable to production automation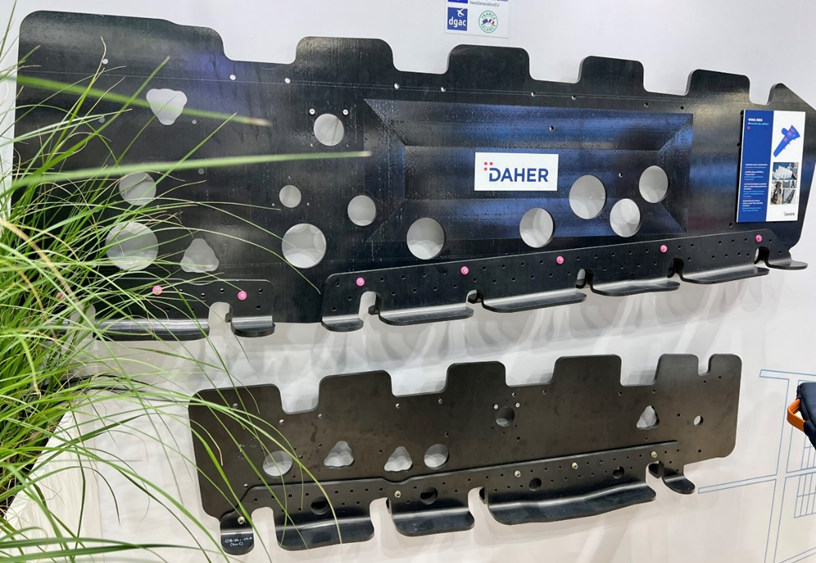 Thermoplastic wing ribs on display at Paris Air Show 2023 on Daher Stand
Daher, France is a leader in the business of aircraft manufacturing, aerospace equipment and systems, logistics and supply chain services. Daher is devoting significant efforts to pursuing aeronautical applications for thermoplastics – focusing on the design, manufacture and assembly of such parts. Thermoplastics are highly adaptable to production automation – in addition to being recyclable, repairable and weldable with mechanical properties that enable the use of less material – thereby making aerostructures lighter in weight.
To strengthen its capabilities for composites of the future, Daher launched the Shap'in innovation center near Nantes, France in 2022, which is dedicated to advanced composites aerostructures. This unique center's goal is to continue the aerostructures research carried out by Daher during the past 10 years, working in collaboration with the ecosystem of the EMC2 competitiveness cluster and the Jules Vernes technological research institute.
Daher is developing numerous thermoplastics projects for use in wings, for ribs, with welding, and for the engine environment – in particular:
In partnership with Airbus, Daher produced an air inlet frame for an engine demonstrator. This piece, with a circumference of several meters and made up of four assembled sections, is one of the largest ever produced in thermoplastic material;
EcoWingbox: this is a 14-meter-long composites wing project;
Wing of Tomorrow: Daher is a partner for Airbus in this project, and is responsible for the design and manufacture of highly-loaded thermoplastic ribs;
TRAMPOLINE 2: Since 2020, Daher has been leading the largest ongoing French research project for thermoplastics (TheRmoplAstic coMPosite for hOrizontal tall plaNE). This project constitutes a new technological breakthrough, involving thermoplastic welding by induction (without riveting);
Carac TP: This project confirms the performance of long fiber composites with a thermoplastics matrix in the aeronautics sector: -High level of resistance (to humidity and the effects of fuel); -Assembly by welding, therefore without the need for metallic parts and the associated gain in mass; -Saving energy and time during production, which makes it possible to accelerate production rates; -Recycling -A reduced ecological impact, as a result of less material loss during production.