Air India firms up order for 250 Airbus aircraft, selects new services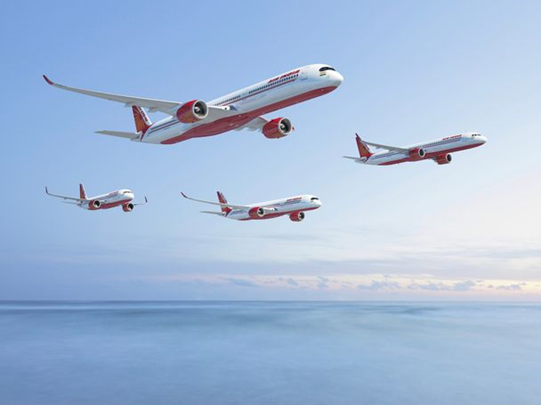 Air India has firmed up its order for 250 Airbus aircraft and selected an Airbus maintenance and digital package to power the airline's transformation and growth strategy. Airbus announcement confirms that the aircraft order includes 140 A320neo and seventy A321neo single-aisle aircraft as well as 34 A350-1000 and 6 A350-900 wide-body jets. The airline had signed a Letter of Intent to acquire these aircraft in February 2023.
Air India will also be counting on Airbus to help ensure the highest level of fleet availability with the Integrated Materials Solutions (IMS) from Satair, an Airbus company. The Airbus-powered maintenance solution will ensure that every time the airline needs a rotable or a consumable part, it is readily available and stocks are automatically replenished. And in its transformation and digitalisation journey, Air India will be the launch customer for Airbus' Skywise Core X3, the latest and most advanced aviation analytics platform. This once again demonstrates the avant-garde cooperation between Airbus and Air India.
The historic Air India order marks the entry into service of the A350 in India, the world's fastest growing aviation market. The all-new, long-range aircraft will help unlock the pent-up potential of India's long-haul market, its technology, reach and second-to-none comfort enabling new routes and passenger experience with better economics and enhanced sustainability. Alongside the A350s, the A320 Family fleets will be the efficient, versatile asset to continue democratising and decarbonising air travel in India – from domestic, regional, up to international levels. Deliveries are set to commence with the first A350-900 before the end of 2023.